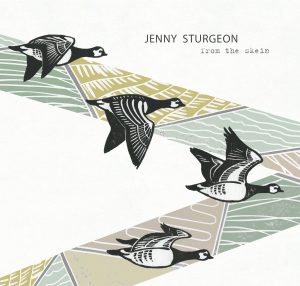 'Maiden Stone' is the opening track on 'From the Skein', one of several songs on the album inspired by regional folklore. The Maiden Stone is a Pictish standing stone which is located at the back of Bennachie Hill, in Aberdeenshire, Scotland. This track tells the local tale of how the standing stone came to be and features the distinctive low whistle of Fraser Fifield, whose melody weaves around the vocals and the driving bass line, building tension and giving the song the timeless feel of an old ballad first sung hundreds of years ago.
'From The Skein' is the debut album from singer-songwriter Jenny Sturgeon.
Inspired by her home region, the north east of Scotland, Jenny explores themes of nature, legend, myth and everyday human experience as she celebrates a community that is both local and global. The songs and the range of musical influences they incorporate create a rich tapestry of varied styles and feelings that ebb and flow through the album – from local history and folklore through key life moments – and with a passion for the natural world, nature creeps in to all of Jenny's writing.
'From The Skein' features Jenny's regular bandmates and the album co-arrangers – multi- instrumentalists Jonny Hardie (Old Blind Dogs), Davy Cattanach (Catford) and Grant Anderson (Brothers Reid). Special guests include Fraser Fifield on whistle and saxophone, Brian McApline on accordion and cello player Aongus Mac Amhlaigh. Guest vocalists include Indian Carnatic singer Rahul K Ravindran and Gaelic singer Ana Maia MacLellan. The album was produced by accomplished piano player and songwriter Simon Gall (Salsa Celtica) with whom Jenny worked on the critically-acclaimed 2015 Clype album.
Artist website: http://www.jennysturgeonmusic.com
Single title: Maiden Stone
Album title: From The Skein
Release Date: 10/06/2016
Single artist: Jenny Sturgeon
Single duration: 4:31
Record Label: Tamarach Records
Catalogue No: UKEZ21600001
Writers: Jenny Sturgeon
Publishers: Jenny Sturgeon
Explicit?: no
Search Terms:
Follow these topics: Featured release, Releases, Scots language song, Scottish songs, Scottish Traditions and Culture, songwriter, whistle