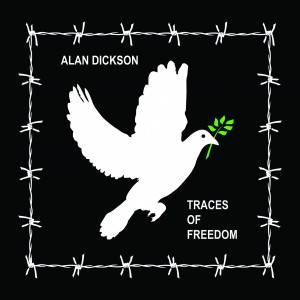 Kinnoull Hill is a song from the album 'Traces of Freedom', which is the second in the series of five albums from Alan Dickson's solo music project 'Strains of Eden'. Kinnoull Hill was inspired by Scots town planner and social activist Patrick Geddes's period of self-reflection in Mexico, brought on as a result of a temporary loss of eyesight in 1879. As a boy, Geddes often roamed Kinnoull Hill, Perth, after school. The song imagines an encounter on the hill between Geddes and the ghost of Jamie Foyers, a soldier who died during the Napoleonic Wars in Spain, and the subject of an old traditional Scottish ballad. Ewan McColl since revised the ballad, which tells the story of a shipyard worker from the Clyde who fights in the Spanish Civil War. In some accounts Jamie Foyers was originally a generic Perthshire term for a soldier.
Alan said "Geddes has been a bit of a hero of mine ever since studying town planning in the seventies as a student at Duncan of Jordanstone College of Art, Dundee. Whenever I visit Perth I often take the opportunity to climb the hill. It was on one of these occasions – with the troubles of the world weighing heavy on my mind – I came up with the lyrics, while humming the Irish traditional tune 'Spancil Hill."
Geddes has often been credited with the phrase 'Think global, act local', originally coined in 1915, and is now regarded as being fundamental in bringing about a sustainable future in this age of globalisation. For Geddes it was the basis of building positive peace in the world (peacedom) rather than living in a constant state of negative peace (wardom) where 'might is right'. His way of bringing about peacedom, for example, was through the active engagement of people in our towns and cities through public works, the reforesting of denuded lands and raising industry from sweatshop levels.
'Strains of Eden' is seeking to rediscover Scotland's radical song tradition through songs related to the land and early democratic movements during 18th and 19th-century Scotland. It is supported by the Alistair Hulett Memorial Trust. For more information visit: www.strainsofeden.net.
Alan Dickson is a singer songwriter based in Glasgow. Originally from Leith, Alan studied at the art college in Dundee, where he started writing songs, then went onto train and work in community education in and around Glasgow for some thirty years, where he still lives.
He describes his music as being in the 'roots' tradition drawing on his Scottish literary interests; Scottish, Irish and American folk.. His lyrics are often infused by his social and political conscience, focused on everyday lives and aspirations. He accompanies himself on guitar (plectrum and fingerstyle) and harmonica.
Alan was one of the first acts to appear at Danny Kyle's Open Stage at Celtic Connections. Since then he has written numerous songs, many of which chronicle Scottish life. Currently his time is consumed with his 'Strains of Eden' project, reworking Scottish songs and lyrical poems from the 18th/19th century, many of which have been forgotten by the established folk-canon.
Artist website: http://www.rowth.com
Single title: Kinnoull Hill
Album title: Traces of Freedom
Release Date: 06/11/2015
Single artist: Alan Dickson
Single duration: 3.30
Record Label: Rowth Records
Catalogue No: ROWTH 002
Writers: Alan Dickson
Publishers: Rowth Publishing
Explicit?: No
Search Terms:
Follow these topics: Releases, Scots language song, Scottish songs, Scottish Traditions and Culture, songwriter