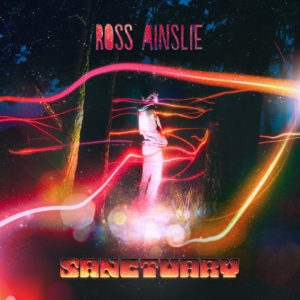 'Inner Sanctuary' is a track heavily influenced by his travels to India, it features a debut performance on Bansuri from Ross. The musicians on this album were selected very carefully and are all very comfortable in many genres, this track shows Greg Lawson playing with an Indian style.
SANCTUARY FEATURES
Ross Ainslie – Highland and C Small Pipes, Whistles, Bansuri, Cittern, Banjo (track 1)
Steven Byrnes – Acoustic Guitar
Hamish Napier – Piano and Keys
James Lindsay – Bass
Greg Lawson – Fiddle
Cormac Byrne – Drums and Percussion
GUESTS
Zakir Hussain – Tabla (Track 7 + 10)
Soumik Datta – Sarod (Track 7)
Damien O'Kane – Banjo (Track 2 + 11)
Jock Urquhart – Words (Track 12)
Produced by Ross Ainslie, Andrea Gobbi and Steven Byrnes
Engineered by Andrea Gobbi at GloWorm Studios
Mixed by Andrea Gobbi at GloWorm Studios and Carrier Waves
Mastered by Stuart Hamilton at Castlesound Studios
Design and Photos by Somhairle Macdonald
Ross Ainslie is one of Scotland's finest traditional musicians and composers, playing pipes, whistles and cittern. He is renowned for his highly acclaimed solo material, and as a skilled performer and prolific collaborator who performs regularly with bands Treacherous Orchestra (of which he is a founding member), Salsa Celtica, Dougie Maclean, Ali Hutton, Charlie Mckerron, Jarlath Henderson and India Alba.
Prestigious industry recognition has come in the form of a multitude of awards,
Won Best Duo at the BBC Radio 2 Folk Awards with Ali Hutton in 2017.
Nomination for Musician of the Year at the BBC Radio 2 Folk Awards in 2013 and 2016.
Nomination for Best Duo at the BBC Radio 2 Folk Awards with Jarlath Henderson in 2014.
He's also received various awards at the Scots Trad Music Awards,
Nomination for Instrumentalist of the year in 2010.
Nomination for Live Act of the year with Jarlath Henderson in 2008 and with Treacherous Orchestra in 2009 and 2010.
Nomination for Album of the year in 2013.
Treacherous Orchestra won Album of the year in 2015
Ross also was Composer of the year in 2015.
His debut album 'Wide Open' was voted 9th out of 50 Top Scottish Albums of 2013 in the Sunday Herald.
Artist website: http://rossainslie.com
Single title: Inner Sanctuary
Album title: Sanctuary
Release Date: 01/12/2017
Single artist: Ross Ainslie
Single duration: 5:06
Record Label: Great White Records
Catalogue No: GWR005CD
Writers: Ross Ainslie
Publishers: PRS/MCPS
Explicit?: NO
Search Terms:
Follow these topics: bagpipes, Featured release, Releases