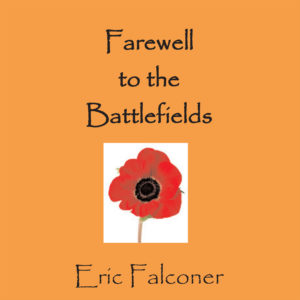 "Home" is the final track on the EP of my composition "Farewell to the Battlefields", which is based on the imagined thoughts and experiences of a soldier surviving the Great War and going home. It was partly inspired by the experience of taking school parties on tours of the Great War Battlefields over a 20 year period as a teacher, and also by my own grandfather, whom I never met. He fought in the Great War, and was always happy to regale my mother and her siblings with tales of rats and lice and other "horrors", but was quiet on his actual experience of the conflict. What, then, of the survivors of war?
The EP was recorded in 2017, and performed by Iain Fraser and Carly Blain/Armstrong (fiddle), Darren Scurfield (bagpipes), Paul Beck (keyboards), Neil Turnbull (percussion) and myself (bass). It was supported through funding from Live Borders and recorded at Big Sky studios (engineer Tommy Roseburgh). The tracks are:
1. Fields: A memory of fields of childhood on the fields of war.
2. Goodbye to All That: The journey away from the battlefields. Immense longing for home.
3. Known Unto God: Solo pipe lament for all lost to the ravages of war.
4. Home: A home thought about constantly, but changed forever.
Track one (Fields) was used as part of the Borders Youth Theatre production of "Delving Deep" in 2017.
I'm a retired History teacher who has made music of various forms and quality my entire life, and I now focus mainly on composition, although I played for many years with a ceilidh band and still perform now and then with other members of the "Falconer Family". I've composed a number of fiddle tunes (a number of which can be found on Music Hub – a couple even featuring in recent "tunes of the year" lists!). I also write songs, and have composed a number of longer pieces of music for string quartets and other instruments, all of which feature on my website.
Artist website: https://ericfalconer.scot
Single title: Home
Album title: Farewell to the Battlefields
Release Date: 24/07/2017
Single artist: Eric Falconer
Single duration: 4:34
Record Label: N/A
Catalogue No: N/A
Writers: Eric Falconer
Publishers: N/A
Explicit?: No
Search Terms:
Follow these topics: bagpipes, Featured release, fiddle, Releases