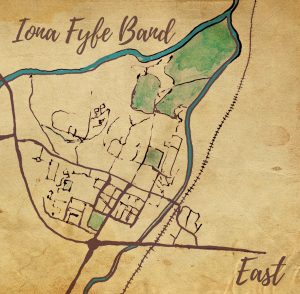 Earl Richard is one of 6 songs on the Iona Fyfe Band's new EP, suitable-named East. The concept EP draws inspiration from the Oral Tradition of the East of Scotland and each track has a distinct link with the East and North East. The project aims to capture the essence of Eastern Folksong, Dialect, Language and Repertoire whilst creating modern interpretations of peculiar and likewise well-known folksongs.
Iona Fyfe: Vocals
Charlie Grey: Fiddle
Chris Ferrie: Guitar and Bodhran
Callum Cronin: Bass
Ross Miller: Border Pipes
Up and coming folksong band, the Iona Fyfe Band brings together Scots Oral Song Tradition and contemporary instrumental music to bring to life songs from literary collections such as John Ords Bothy Songs and Ballads and the Greig-Duncan Folk Song Collection. Intertwined with tunes and accompaniment from Callum Cronin (Bass), Chris Ferrie (Guitar) Charlie Grey (Fiddle), the band breaths new light into material over a hundred years old whilst combining contemporary styles to create a high-energy performance geared towards North East Song-Styles.
Fronted by Aberdeenshire folksinger and Radio2 Young Folk Award Semi-Finalist, Iona Fyfe, the band are set for a busy summer taking their music to Italy for Folkest as well as performing at a number of Scottish festivals such as Doune The Rabbit Hole and Aberdeen International Youth Festival. The band will also visit a number of English and Scottish folk clubs such as Stockton, South Shields and Stirling.
Artist website: https://ionafyfemusic.wordpress.com
Single title: Earl Richard
Album title: East
Release Date: 01/07/2016
Single artist: Iona Fyfe Band
Single duration: 3.50
Record Label: Iona Fyfe
Catalogue No: IFB16EAST
Writers: Trad. arr Iona Fyfe Band
Publishers: n/a
Explicit?: No
Search Terms:
Follow these topics: bagpipes, contemporary, Featured release, fiddle, folk band, Guitar, banjo etc, piano, Releases, Scots language song, Scottish songs, Scottish Traditions and Culture