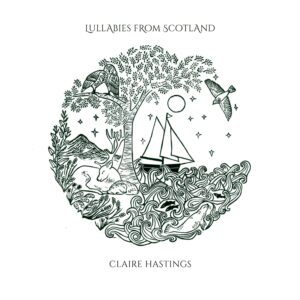 Dream Angus is the first track on Claire's latest album 'Lullabies from Scotland'; released 30th June 2023. Produced by Innes White, recorded and mixed by Carla Feuerstein at GloWormStudios, Glasgow and mastered by Andrea Gobbi at Carrier Waves Mastering.
Vocals & ukulele – Claire Hastings
Guitar & backing vocals – Innes White
Fiddle & double bass – Charlie Stewart
Piano & flute – Tina Jordan Rees
Percussion – Signy Jakobsdottir
Cello – Alice Allen
Piano (Ca' the Yowes) – Tom Gibbs
Dream Angus is a well known Scots lullaby about Angus; the Celtic God of dreams.
"It begins with some minimal instrumentation and ethereal vocals before moving gently into a more playful percussion-led song. This balance between tradition and play is characteristic of Lullabies from Scotland." (TRADFOLK)
Folksinger, songwriter and ukulele player Claire Hastings has made a name for herself on the folk scene since winning BBC Young Traditional Musician of the Year in 2015.
Originally from Dumfries and Galloway, Claire moved to Glasgow to study at the prestigious Conservatoire of Scotland, achieving a first-class honours degree in Scottish Music.
Since then she has toured extensively both as a solo artist and with her band, with standout performances including BBC's Friday Night is Music Night alongside Lulu and Jamie Cullum, on BBC's Hogmanay 2021 performing 'Auld Lang Syne' and as a soloist with the Scottish Symphony Orchestra, Randers Chamber Orchestra and Aarhus Jazz Orchestra, as well as numerous folk festival appearances.
Following on from her first albums 'Between River and Railway' (Exquisite Songlines) and 'Those Who Roam' (Highly engaging The Scotsman), Claire has recently released her highly anticipated third album 'Lullabies from Scotland'.
Claire also shares her passion for music and songwriting through various teaching projects and has worked with Fèis Rois, Survivor Arts, Nevis Ensemble, Live Music Now Scotland and Scottish Culture and Traditions amongst others. She also runs 'Claire's Music Club'; music workshops for under 5s and their families.
A remarkably talented singer-songwriter SONGLINES
A compelling storyteller STIRRINGS
A unique and original talent MAVERICK
Artist website: http://www.clairehstings.com
Single title: Dream Angus
Album title: Lullabies from Scotland
Release Date: 30/06/2023
Single artist: Claire Hastings
Single duration: 4.39
Catalogue No: LUCKEN003CD
Writers: Trad
Publishers: N/A
Explicit?: No
Search Terms: {Search terms:18}
Follow these topics: Featured release, Newsletter, Releases, Scots language song