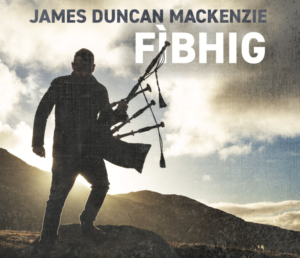 Cat and Mouse is the first single from James' third solo album. The single features two tunes, The Trapper and The Midnight Mouse. The Midnight Mouse refers to an incident of a mouse in the house in the early hours!
Fìbhig was written and largely recorded from home over a two year period like no other. Named after a small village on the West side of the Isle of Lewis near where James lives. The tunes on the album are inspired by place, people and island life.
From Back on the Isle of Lewis, James is a graduate of the University of the Highlands and Islands and the Royal Conservatoire of Scotland where he studied on the Piping Degree course. During his studies in Glasgow, he played with the Scottish Power Pipe band under Chris Armstrong.
James toured extensively over the past several years playing festivals all around the world with Breabach. His debut self-titled album was well received in 2013 and was performed at international festivals including MIMO festival, Brazil and Festival Interceltique de Lorient in Brittany.  James is also a member of Tryst, a 10 piece bagpipe group, which is made up of Scotland's top contemporary composing pipers
He has three albums to date, James Duncan Mackenzie, Sròmos, and Fìbhig. James also released his first tune book, The James Duncan Mackenzie Collection, in December 2021.
Artist website: http://www.jamesduncanmackenzie.com
Single title: Cat and Mouse
Album title: Fìbhig
Release Date: 12/02/2022
Single artist: James Duncan Mackenzie
Single duration: 3.37
Record Label: James Mackenzie Music
Catalogue No: JMMCD003
Writers: James Duncan Mackenzie
Publishers: James Mackenzie Music
Explicit?: No
Search Terms: {Search terms:18}
Follow these topics: bagpipes, Featured release, folk band, folk rock, Gaelic language songs, Newsletter, pipe band, Releases, Scottish Traditions and Culture