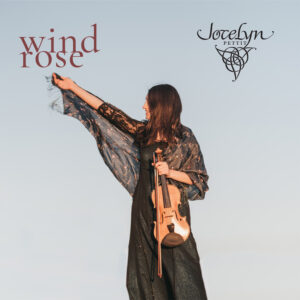 'Wind Rose' is the title track of fiddle player Jocelyn Pettit's third album. Composed after returning to Canada from living in Glasgow, it is an uplifting opener symbolizing the start of a journey. A 'wind rose' is a nautical compass for reading the direction of the winds, and a metaphor for the visible and invisible forces that guide the currents of life. This self-produced release pays homage to the storms we have all weathered over these last few years. It features Pettit's fine band members on guitar, whistle, bass, and percussion.
"Striking" – FolkWales Magazine
"A vibrant opener for the album" – FATEA Magazine
"The melody to the opening title tune is a stirring reminder that a good tune is just as important as a good song." – My Northern Skies
Music Video: https://www.youtube.com/watch?v=riSwlPCEiwk
From the West Coast of Canada, Jocelyn Pettit is a vibrant fiddle player, stepdancer and singer of Scottish, Irish, French, and Malaysian heritage. With uplifting energy and engaging stage presence, Jocelyn integrates the Celtic and folk traditions of her roots into her performances and original compositions.
Over the past 15 years, Jocelyn has performed across Canada, the U.S., the U.K., Europe, and Malaysia. She has appeared on CBC and BBC television and radio, shared the stage with the Irish supergroup The Chieftains, and received multiple award nominations including "World Artist of the Year" at the Western Canadian Music Awards, and at the Canadian Folk Music Awards. She has a Master of Music Degree (Scottish Music), from the Royal Conservatoire of Scotland.
Jocelyn's hot-off-the-press third release, Wind Rose, features original compositions inspired by themes of exploration and self-discovery, and fresh interpretations of favourite traditional and contemporary tunes. It brings listeners through a journey of uplifting melodies, rhythmic grooves, soulful songs, and lively dance tunes. The album was recorded with band members and guest collaborators across two continents — from Squamish, BC ("Mother of the Wind" in the Coast Salish language), to Glasgow, Scotland.
Artist website: http://www.jocelynpettit.com
Single title: Wind Rose
Album title: Wind Rose
Release Date: 03/06/2022
Single artist: Jocelyn Pettit
Single duration: 3:36
Record Label: Independent
Catalogue No: 875531022223
Writers: Jocelyn Pettit
Publishers: Jocelyn Pettit
Explicit?: No
Search Terms: {Search terms:18}
Follow these topics: contemporary, Featured release, fiddle, folk band, Newsletter, Releases, Scottish Traditions and Culture, whistle