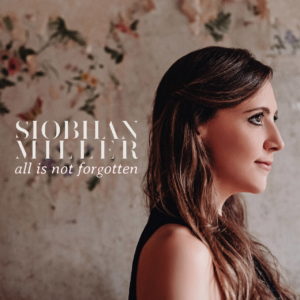 Following on from the slickly produced, mainstream-nudging 2018 album Mercury, this new release is a more stripped back affair, seeing Miller return to her roots. And where Mercury fielded all original songs All is Not Forgotten magically melds new and traditional songs in nine tracks with an overriding air of unrushed calm peppered with a touch of fun in the final tracks.
Siobhan is joined on the album by some of the Scottish folk scene's finest musicians – Orcadian singer/guitarist Kris Drever (Lau), fiddler Megan Henderson (Breabach), Innes White on acoustic guitar, Euan Burton on double bass, John Lowrie on piano and Kim Carnie on backing vocals.
The original songs often see Siobhan co-writing with long term collaborators Drever and husband Burton.
Produced by the team of Miller, Burton, Drever and Iain Hutchison the album was recorded at Gloworm Studio in Glasgow.
Siobhan Miller, one of the most captivating and successful singer songwriters to come out of Scotland in recent years, will release her fourth solo studio album in April and showcase it on a UK tour. Siobhan, with her soulful, burnished gold voice, has won the MG Alba Scots Trad Music Awards 'Singer of the Year' title an unprecedented three times alongside a 2018 BBC Radio 2 Folk Award.
In just a few short years, the multi-talented Midlothian-born performer, who won the 2008 Radio 2 Young Folk Award with Orcadian fiddler Jeana Leslie, has released three strong solo albums and, in another tangent of her career, appeared in TV drama series Outlander and sung in U.S. theatre productions on Broadway (Peter and Wendy) and in Boston (A Christmas Celtic Sojourn).
Artist website: http://www.siohanmiller.com
Single title: While The Whole World Sleeps
Album title: All Is Not Forgotten
Release Date: 03/04/2020
Single artist: Siobhan Miller
Single duration: 4:00
Writers: Euan Burton / Findlay Napier
Publishers: PRS / MCPS
Explicit?: No
Search Terms: {Search terms:18}
Follow these topics: contemporary, Featured release, folk band, Releases, Scottish songs