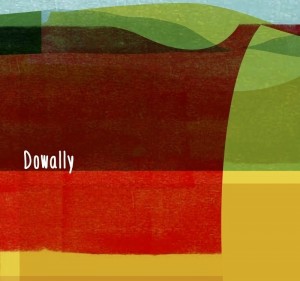 Wally Pumpkin is the first track on Dowally's debut album. It was co-written by Rachel and Dan, and the name was inspired by the closeness to Halloween of the tracks composition!
The outro features the inventive accordion playing of Phil Alexander.
The latest addition to Edinburgh's bustling folk scene, Dowally make unclassifiable, thrillingly energetic music, fusing their love of traditional Scottish music with jazz harmony, Eastern European rhythms and deep Americana raucousness. Dan Abrahams' driving guitar and Rachel Walker's swinging fiddle are joined by Phil Alexander (of Moishe's Bagel fame) on Accordion and Graham Coe on Cello. After a sell out Fringe Show, and expanding from a duo to a quartet, Dowally will be releasing their debut album mid-september.
"Lovely Tunes" – Anne Massie
"Dowally's relaxed style was a lovely breath of fresh air…mixing the traditional with more contemporary, even experimental and jazzy, and all with fabulous musicianship" Leith Folk Club
Artist website: http://www.dowally.com
Single title: Wally Pumpkin
Album title: Dowally
Release Date: 01/09/2015
Single artist: Dowally
Single duration: 4:58
Record Label: Dowally
Catalogue No: Dowally
Writers: Rachel Walker, Daniel Abrahams
Publishers: Dowally
Explicit?: No
Search Terms: Jazz, Eastern European
Follow these topics: Accordion, contemporary, Featured release, fiddle, folk band, Guitar, banjo etc, Releases