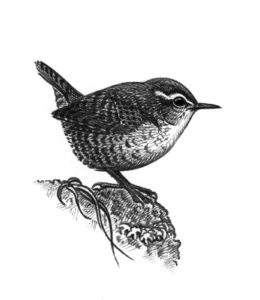 'The Wren And The Salt Air' is a collection of songs and tunes by Scottish singer-songwriter Jenny Sturgeon. It was written to celebrate the 30th anniversary of the Scottish archipelago of St Kilda becoming a World Heritage Site for its natural features.
This collection of music was commissioned by the National Trust for Scotland (NTS) and comprises four new pieces of music inspired by the wildlife and human history of the archipelago. It is a spellbinding collection that effectively captures the unique atmosphere of St Kilda, Britain's most remote island group.
In this EP Jenny explores the connections between birds and music, and woven into the tracks are her field recordings of the birds of St Kilda, as well as those of composer, author and ornithologist Magnus Robb ('The Sound Approach').
Susan Bain, the St Kilda Site Manager for NTS, says of the project "The St Kildans drew inspiration from the landscape and wildlife around them in order to compose songs and melodies and I'm delighted that Jenny has continued this tradition. As a World Heritage Site St Kilda has value to all of humanity and music can connect and inspire peoples across the globe regardless of language or culture."
'The Wren And The Salt Air' features Jenny (vocals, shruti box, guitar), Jonny Hardie (fiddle, vocals), Pete MacCallum (guitar, vocals) and the distinctive calls of the St Kilda Wren, Leach's Storm-Petrel and Black-Legged Kittiwake.
St Kilda is an iconic group of islands with a wealth of human history and animal life, including a seabird population of around half a million birds, plus a unique sub-species of wren and mouse. St Kilda and its history have long captured the interest of people across the globe. It was as recently as 1930 that the last native St Kildans left the archipelago.
The opening title track, 'The Wren And The Salt Air', captures the imagery of Jenny's songwriting and references a walk around Village Bay, the main settlement of crofts, black houses and cleats, abandoned by the native St Kildans in 1930 when the islands were evacuated. A field recording of the unique St Kilda Wren provides a base for this track, upon which Jenny weaves lyrics and melody.
For more information visit: www.jennysturgeonmusic.com / www.nts.org.uk
10% of profits from the sale of this EP goes to support conservation work on St Kilda.
"Jenny Sturgeon is a singer-songwriter who brings together the old and new with a rare skill" R2 Magazine. The inspiration for Jenny's lyrics comes from folklore, historical events and personal experience, and having trained as a biologist her enthusiasm for nature creeps in to all her work.
Jenny plays in a duo with Jonny Hardie (Old Blind Dogs, Clype), and with Lauren MacColl and Ewan MacPherson in the critically acclaimed band Salt House.
Artist website: http://jennysturgeonmusic.com
Single title: The Wren And The Salt Air
Album title: The Wren And The Salt Air
Release Date: 17/02/2017
Single artist: Jenny Sturgeon
Single duration: 3:28
Record Label: Fitlike Records
Catalogue No: Fitlike016
Writers: Jenny Sturgeon
Publishers: Jenny Sturgeon
Explicit?: No
Search Terms:
Follow these topics: Featured release, fiddle, Releases, Scottish Traditions and Culture, songwriter