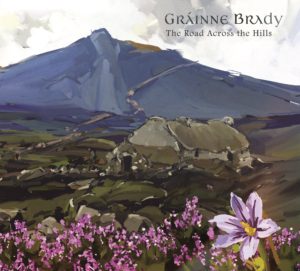 A tune based on a poem by Donegal writer Patrick MacGill – The Woe of It
Sweet was the mavis' song of eld,
And how the woodlands thrilled with it!
Sweeter the song of the girl I held
Close to the heard that filled with it
Methinks the rose leant from the wall
To kiss the lily brow of hers;
And through the years I can recall
The softly whispered vow of hers.
We saw the evening fade afar,
And parting, never met again;
And ere we meet, how many a star
Shall rise again and set again.
The mavis' song but brings regret,
The fading rose must know of it:
For she is gone – I can't forget,
And – ah! The bitter woe of it!
Gráinne Brady is an Irish fiddle player and composer from Co. Cavan, based in Glasgow. Gráinne plays in a variety of different bands including MG Alba Scots Trad Awards nominees Top Floor Taivers, string group The Routes Quartet, and Gaeilge/Gàidhlig supergroup LAS. Gráinne's debut album, 'The Road Across the Hills', released in February 2019, has already been met with hugely positive reviews and she performed the material at Glasgow's prestigious Celtic Connections 2019 festival as part of the New Voices series. She also performed on BBC Alba's Seirm TV show, due for broadcast in 2019.
"Arrangements evoke both adversity and lively inner strength." ***** RnR Magazine
Artist website: http://grainnebradyfiddle.com
Single title: The Woe of It
Album title: The Road Across the Hills
Release Date: 22/02/2019
Single artist: Gráinne Brady
Single duration: 3:36
Record Label: Cailin Records
Catalogue No: CFM01CD
Writers: Gráinne Brady
Publishers: PRS/MCPS
Explicit?: No
Search Terms: {Search terms:18}
Follow these topics: Featured release, fiddle, Releases