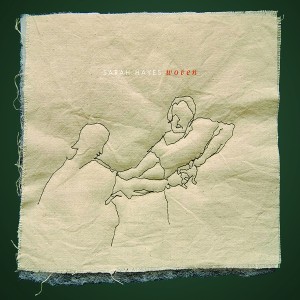 I learned the Trees They Grow Tall many years ago from the singing of Joe Heaney of Connemara.
I wrote a new melody and arranged it as part of my Celtic Connections New Voices commission, Woven, which was performed in Glasgow in January 2014. I've since recorded Woven with the same band (Fiona MacAskill on fiddle, Mairearad Green on accordion, Ali Hutton on guitar, James Lindsay on double bass and Phil Hague on percussion), and it's become my debut album!
Sarah Hayes is a singer and multi-instrumentalist based in Glasgow, where she leads a varied musical life, performing and teaching across a range of settings.
She grew up in Northumberland playing folk and traditional music, and has been involved in band projects, touring, recording and performance since her early teens. Sarah moved to Glasgow to study classical flute at the Royal Conservatoire of Scotland (formerly RSAMD), and now plays with three chamber groups. She released her solo EP, Mainspring, in May 2013 on her own label, and is also a member of successful indie-pop band Admiral Fallow, who have toured the UK, Europe, USA and Australia, and released three albums to critical acclaim.
Recent highlights include: performing Inge Thomson's 'Da Fishing Hands' with an all-star band in Shetland, a sold out show with Admiral Fallow and the Royal Scottish National Orchestra at Paisley Abbey, and solo support slots for Anais Mitchell and Aidan O'Rourke. In autumn 2013, Celtic Connections commissioned Sarah for its annual New Voices concert series. Her 45-minute composition, Woven, was premiered at the festival, and earned a five star review in the Scotsman newspaper. A studio reimagining of Woven was released as Sarah's debut album on 20th November 2015.
'An utterly compelling tapestry' – Folk Radio UK
'This deeply absorbing music achieves its ambitious aim magnificently' – fRoots Magazine
Artist website: http://www.sarahhayes.net
Single title: The Trees They Grow Tall
Album title: Woven
Release Date: 20/11/2015
Single artist: Sarah Hayes
Single duration: 3:47
Record Label: Night Vad
Catalogue No: NV003
Writers: Trad arr Sarah Hayes
Publishers: Nettwerk One Music
Explicit?: No
Search Terms: Alternative
Follow these topics: Accordion, contemporary, English language songs, Featured release, fiddle, Guitar, banjo etc, Releases