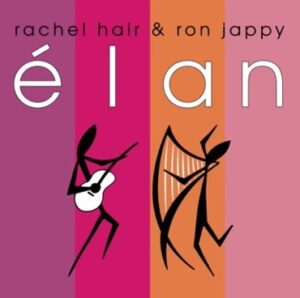 Two of Scotland's most in-demand traditional musicians Rachel Hair and Ron Jappy have joined forces once again for their second duo album Élan, set for release on Friday 19th May 2023.
The instrumental album combines Rachel's skilled playing of the Scottish harp (clarsach) with Ron's talents on acoustic guitar, making them the only duo at present to combine the oldest instrument in Scottish music with the newest. The result is a refreshing and uplifting sound.
Élan – an ancient French word meaning 'with energy, style and enthusiasm' – follows the pair's 2019 album SPARKS, and marks their sixth year performing together. The new record showcases just how far they have come as a duo in that time.
The tunes on the album span a wide range of tempos and moods, but all allow the harp and guitar to shine together as equals. The instrumental pairing links each track, providing a far more rich and complex sound than you might expect from just two instruments, and lending a fresh take to some traditional tunes. Adam Brown (RURA, Ímar) also plays bodhrán on three tracks.
Six of the ten tracks on Élan include original tunes composed by Rachel, with the remaining tracks carefully selected to complement them from traditional tunes and more modern compositions by the pair's contemporaries.
The original tunes were heavily inspired by Scottish traditions and the country itself; Rachel grew up in the Highlands and moved to the central belt in her late teens, and believes it took leaving the culture and traditions behind to make her realise how precious they are. The pair are also inspired by the thriving music scene in Glasgow, the city they both now call home, with its world-class venues and live performances of all genres available on their doorstep.
Rachel Hair said: "Élan is more closely related to who we are as musicians and people, than my previous releases. There are nods to my Highland background, with tunes from the Captain Simon Fraser collection, tunes I've written to do with Ullapool and Lochbroom, as well as pipe tunes – we were both Highland dancers as youngsters and have a deep appreciation of pipe music. There are also sets of Irish tunes as a nod to the Glasgow-Irish music scene, and from the Isle of Man, where my husband is from and where I spend three days each month teaching harp."
Ron Jappy added: "Although Élan looks and sounds like a Gaelic word, it's actually an old French word that has been used in the English language since the 19th century. We feel its meaning really describes how we both are as performers and our approach to life. We love being on stage, we love being on tour and meeting people, and we can't wait to do that again with our new album."
A prominent performer in the Scottish traditional music scene, Rachel Hair first came across the clarsach through the work of the renowned Gaelic arts organisation Fèis Rois in her home village of Ullapool. She has toured extensively throughout Europe, the USA and beyond, has taught and performed at Celtic harp festivals around the world, and has released six critically acclaimed albums.
Originally from the small coastal village of Findochty in the North East of Scotland, Ron Jappy began music lessons in primary school. A graduate of the Royal Conservatoire of Scotland, Ron is recognised as one of Scotland's foremost traditional and folk guitarists, having toured the UK and Europe extensively.
Élan was recorded at Oak Ridge Studios in Glasgow with engineer Scott Wood, and mixed and mastered by Andrea Gobbiat GloWorm Studios. Its recording was made possible thanks to funding from Creative Scotland. Rachel and Ron will tour Japan and Australia in May and June 2023 to celebrate the release of the album.
Élan will be available on CD, and to stream and download on all major digital platforms, from Friday 19th May 2023. For more information visit www.rachelhair.com.
dfdfdf
Artist website: https://www.rachelhair.com/
Single title: The Transatlantic Proposal (The Transatlantic Proposal / The Maiden's)
Album title: Élan
Release Date: 19/05/2023
Single artist: Rachel Hair and Ron Jappy
Single duration: 2:59
Record Label:
Catalogue No:
Writers: Rachel Hair
Publishers: PRS
Explicit?: No
Search Terms: {Search terms:18}
Follow these topics: clarsach / harp, Featured release, Guitar, banjo etc, Newsletter, Releases