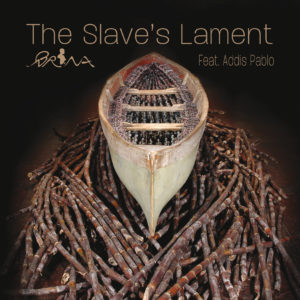 Brina – The Slave's Lament (feat. Addis Pablo)
Jamaica Sings Robert Burns and Tribal Global Records & Productions are pleased to announce this exciting release. Jamaican singer Brina's version of Robert Burns' emotive song 'The Slave's Lament'
In 1786 Scottish poet Robert Burns was facing financial difficulties and hardship, as well as an increasingly complicated personal life. He was offered a job as a 'bookkeeper' on a slave plantation in Portland, Jamaica – where he would be well paid. Burns booked his ticket to Jamaica and made plans to leave Scotland.
Anyone familiar with Burns the egalitarian may wonder how he would have reacted upon arriving in Jamaica, witnessing first hand the harsh and inhumane reality of life for enslaved Africans.
"Burns has also been described as a poet of the poor, an advocate of social and political change, and an opponent of slavery, pomposity and greed . . ."
UN Secretary General Kofi Annan, 13th January 2004
Although Burns ultimately did not sail to Jamaica, he wrote The Slave's Lament, which was published in 1792. The song was written from the perspective of a Senegalese woman captured in Africa and taken to Virginia.
This new recording is Brina's emotive and vivid adaptation of that song from a Jamaican perspective. It is played and performed in the Jamaican Nyabinghi musical style made popular by the Rastafarian movement. It features Addis Pablo playing the melodica, an instrument made famous in reggae music by Addis' legendary father Augustus Pablo.
The accompanying music video was filmed on location in Scotland amidst the ancient standing stones of Scotland's Kilmartin Glen, and a Neolithic ceremonial chamber more than 6,000 years old. The music video was filmed and directed by Dir Etienne K. The video also features Jamaican dancer Keenan Fletcher, currently studying ballet at the Royal Conservatoire in Glasgow, Scotland.
Wounds and repercussions of the painful and long period of trans Atlantic chattel slavery in our history are still felt today. Through cultural sharing and understanding we can continue the process of healing.
This is the second single taken from the upcoming album Jamaica Sings Robert Burns. Had he settled in Jamaica, this song and the upcoming album give a taste of how Burns' songs might have sounded…
The track was produced by Scottish musician and producer Kieran C Murray, and backed up by some top-ranking Jamaican musicians: Addis Pablo on melodica, Calvin Mitchell, Phillip Supersad and Vivaldo Brown on drums and percussion, Omar Francis and Kieran C Murray on acoustic guitars, Omar 'Jallanzo' Johnson on lead acoustic guitar, with Brina singing her own vocal harmonies.
Production credits for The Slave's lament:
Words and Music: Robert Burns, arr. Subrina Murray & Kieran C Murray
Produced by: Kieran C Murray for Tribal Global Productions
Mixed by: Kieran C Murray
Mastered by: Jon Rezin
All information about Jamaica Sings Robert Burns can be found on the website: www.jamaicasingsburns.com and about Brina on her website: www.brinasings.com.
Brina is available for more detailed press interviews in connection with this project.
Please contact: Email: kieran@tribalglobal.com Telephone: (UK) +44 7584 519570
Brina is the voice of World Roots Reggae Music from Jamaica, an artiste steeped in the sounds and rhythms of her Jamaican culture sharing her music with the world. A vibrant and captivating performer, Brina fuses her homeland's signature music with gospel, jazz, and Latin elements, all underpinned by her message of justice, equality, liberation, oneness and love.
Since releasing her first songs and debut album 'Under One Sun' Brina has performed in Jamaica, Europe and Africa, collaborated with GRAMMY winning artistes and producers Sly and Robbie and released an EP in the Swahili language. Brina's most recent releases are from the Jamaica Sings Robert Burns project, uniting Scottish songs with Jamaican music.
For more information fans and music lovers are encouraged to visit www.brinasings.com where you can discover more about Brina's music and videos.
Artist website: http://jamaicasingsburns.com
Single title: The Slave's Lament (feat. Addis Pablo)
Album title: Jamaica Sings Robert Burns
Release Date: 25/01/2017
Single artist: Brina
Single duration: 4:38
Record Label: Tribal Global Records
Catalogue No: ISRC CODE: GBU6E1100031
Writers: Robert Burns, arr. Subrina Murray & Kieran C Murray
Publishers: Tribal Global Music
Explicit?: No
Search Terms:
Follow these topics: contemporary, Featured release, miscellaneous, Releases, Scottish songs, Scottish Traditions and Culture