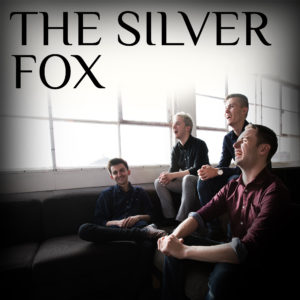 'The Silver Fox' is the newest track from Glasgow based folk band Gnoss and is the follow-up release to their debut single, 'Waves'.
Whereas 'Waves' marked a defined step in a new musical direction, 'The Silver Fox' sees a return to more familiar ground: tune playing bursting with energy.
The set is made up of three reels;
A Taste of NAFCo – Shane Cook & Jake Charron
The Lads O' Laois – Trad.
Reel for Grace – Michael McGoldrick
Recorded, mixed and mastered by Scott Wood
Produced by Gnoss & Scott Wood
Arranged by Gnoss
Special thanks to James Lindsay on Double Bass
Gnoss are a dynamic new four-piece of fiddle, flute, guitar and percussion, that tackle energetic tune sets and driving folk song with a 'maturity of ability many of a greater age will envy' (Living Tradition).
All current students at the Royal Conservatoire of Scotland, Graham Rorie, Aidan Moodie, Connor Sinclair and Gregor Kincaid have been tipped as 'ones to watch' by Songlines magazine for their lively, engaging and honest performances.
Forming as a duo in 2015, Gnoss (Graham and Aidan) picked up a prestigious Danny Kyle Award at Celtic Connections, reached the Semi- Finals of the BBC Radio 2 Young Folk Award (2016) and supported such acts as Sharon Shannon, Blazin' Fiddles, Seth Lakeman and Liz Carroll.
Now armed with their exciting new line-up, Gnoss are well on the way to establishing themselves as one of Scotland's hottest up-and-coming folk bands
Artist website: http://www.gnossmusic.com
Single title: The Silver Fox
Album title:
Release Date: 25/01/2017
Single artist: Gnoss
Single duration: 4:00
Record Label: Blackfly Records
Catalogue No: N/A
Writers: Arranged by Gnoss: Aidan Moodie, Graham Rorie, Connor Sinclair, and Gregor Kincaid
Publishers: N/A
Explicit?: No
Search Terms:
Follow these topics: Featured release, folk band, Releases