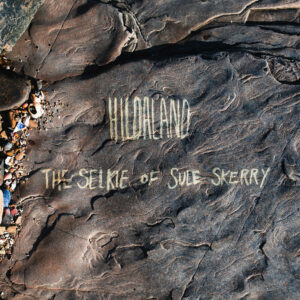 The Selkie of Sule Skerry is the third single from their upcoming album Sule Skerry, which is set for release on Friday 3rd November. The track takes the traditional, dark lyrics of a haunting Orcadian ballad and pairs them with a brand new composition, bringing a much-loved ancient story up to date for new ears, while maintaining its heart. It tells the tale of a woman who has her child taken away by its father – a great selkie of the remote, rocky island of Sule Skerry, who can transform from a seal into a human.
The song builds steadily into an electronica-Celtic fusion sound, with complex production and powerful vocals. Joining Louise on fiddle, strings and vocals and Ethan on mandola, electric mandocello and strings are Sam Kassirer on synth and Dan Klingsberg on double bass, bringing depth and resonance to the track and adding to its atmospheric feel.
Louise Bichan said: "I have always loved the old folklore tales I was told growing up in Orkney. We wanted to play around with the melody and come up with something a little different, so we put it in a minor key and we had fun arranging strings and backing vocals to really build the track. I love when a song builds in a way that you almost don't notice it's happening, until it's really big and you realise it's the same song that started out so small. I have noticed this in Ben Howard's music and often thought about taking inspiration from that. As I was showing the song to my folks, my mum was really tickled – she used to sing a version of it with a friend when she was growing up in Moray, playing in the folk clubs."
Orkney (Scotland) born fiddler Louise Bichan and Indiana (USA) mandolinist Ethan Setiawan present a collaboration and meeting of their musical worlds in Hildaland. A path steeped in the fiddle traditions of their respective sides of the Atlantic, the journey taken wends through Scottish, oldtime, and Swedish inspired music intertwined with contemporary compositions. Bichan's fiddle is a melodic foil to Setiawan's counterpoint and harmonic depth, and the two weave in and out seamlessly.
Setiawan has won such accolades as the 2014 National Mandolin Championship, the 2017 RockyGrass Mandolin Championship and has shared the stage with the likes of Julian Lage, Darrell Scott, Bryan Sutton, Mike Marshall, Tony Trischka, Darol Anger, Casey Driessen, the Steel Wheels, Don Stiernberg, Matt Flinner, and Jacob Jolliff.
Bichan has won awards for her compositions and playing, and has travelled far and wide to perform in various line ups since a young age. She has appeared at the likes of the BBC TV's Hogmanay Live show, Edinburgh Castle, Reading Festival, Cambridge Folk Festival, Lorient Interceltique Festival, Milwaukee Irish Festival and Sligo Live festival. In 2016 she released her first solo album, Out of My Own Light, to great acclaim.
Artist website: https://www.hildaland.com/
Single title: The Selkie of Sule Skerry
Album title: Sule Skerry
Release Date: 25/10/2023
Single artist: Hildaland
Single duration: 4:43
Record Label: Adhyâropa Records
Catalogue No: AR00046
Writers: Louise Bichan, Ethan Setiawan, trad
Publishers: Ethan Setiawan ASCAP, Louise Bichan PRS/MCPS
Explicit?: no
Search Terms: {Search terms:18}
Follow these topics: Featured release, Newsletter, Releases, Scottish songs