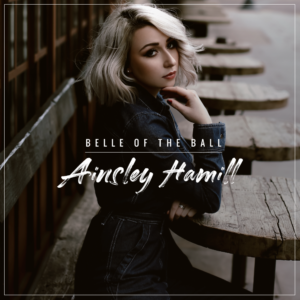 A song written by Ainsley that appears on her first solo EP release 'Belle of the Ball'
Ainsley is an experienced songwriter, singer and step dancer, and is one of the UK's leading and most diverse folk singers, with various nominations at the MG ALBA Scots Trad Music Awards.
Ainsley represented Scotland at Eurovision Choir of the Year 2019 in Gothenburg, Sweden, and was named as a BBC Radio Scotland Young Traditional Musician of the Year Finalist in 2014/15, and recently nominated for Gaelic Singer of the Year at the MG ALBA Scots Trad Music Awards.
She has appeared at folk festivals such as The Festival Interceltique de Lorient, and Celtic Connections since 2010, along with many others in Britain and abroad with Barluath, The Unusual Suspects and Fourth Moon, whilst touring extensively in Germany and Denmark.
Ainsley's love of Gaelic song was nurtured whilst studying at the Royal Conservatoire of Scotland, where she obtained a First Class Honour's Degree in Scottish Music, with Gaelic Song as her Principal Study, under the tuition of Kenna Campbell and Màiri MacInnes. There she met her fellow band mates, and Barluath was formed. In recent years, the band has recorded two studio albums, 'Source' and 'At Dawn of Day', along with touring extensively in Britain and abroad.
In October 2013, Ainsley won The Silver Pendant at The Royal National Mòd, held in Paisley. She has also appeared in the final of the An Comunn Gàidhealach Gold Medal competition in 2014, and 2015.
Artist website: http://ainsleyhamill.com
Single title: The Green Woods Back Home
Album title: Belle of the Ball
Release Date: 01/12/2019
Single artist: Ainsley Hamill
Single duration: 04.08
Record Label: Ainsley Hamill Records
Catalogue No: AVH001CD
Writers: Ainsley Hamill
Publishers: Ainsley Hamill
Explicit?: No
Search Terms: {Search terms:18}
Follow these topics: Featured release, Releases, songwriter