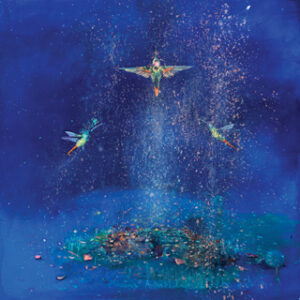 The Dawn Chorus is the opening track on Megan Henderson's debut album 'Pilgrim Souls', an instrumental and vocal suite inspired by the work of fellow Fort William native Christine Clark, whose dream-like, impressionistic paintings depict – in the artist's own words – "imagined landscapes and narratives which transport us to unknown lands, conveying moments of solitude, love, hope, beauty and loss."
Megan is multi instrumentalist and singer hailing from the West Highland town of Fort William. Growing up in a household with 6 older siblings all immersed in music, her path to becoming a musician was almost inevitable. Her early musical training was received through local Feisean and the Lochaber Musical School.
Megan went on to study Classical Violin at the Royal Scottish Academy of Music and Drama where she gained her degree and valuable experience in performance, composition and arrangement.
Traditional Scottish music always remained a strong passion and shortly after graduating she joined highly respected Scottish folk group Breabach. In her 10 years with the band, Breabach have carved out international recognition as one of Scotland's most innovative and creative acts. 5 time winners at the MG Alba Scots Trad Music Awards, they have performed for Radio and Television, co-curated cross cultural collaborations and released 5 albums alongside a hectic touring schedule which has seen them play at venues including the Sydney Opera House.
Her versatility, technical skill and outgoing nature make Megan a much in demand session musician, performing and recording with artists including Salsa Celtica, the Grit Orchestra, Le Vent Du Nord, Siobhan Miller, Kris Drever and Duncan Chisolm. Megan was nominated as 'Instrumentalist of the Year' at the Scottish Traditional Music Awards in 2012.
2022 will see the release of her debut album 'Pilgrim Souls' at Celtic Connections.
Artist website: http://https://www.meganhendersonmusic.com/
Single title: The Dawn Chorus (radio edit)
Album title: Pilgrim Souls
Release Date: 21/01/2022
Single artist: Megan Henderson
Single duration: 4.31
Record Label: Megan Henderson Music
Catalogue No: MHM01CD
Writers: Megan Henderson
Publishers: Megan Henderson
Explicit?: no
Search Terms: {Search terms:18}
Follow these topics: Featured release, fiddle, Newsletter, Releases