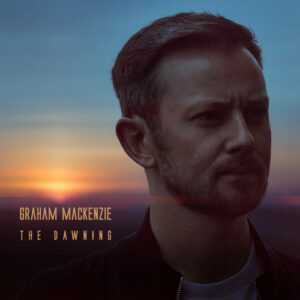 Inverness fiddler and composer Graham Mackenzie will launch his second studio album The Dawning on Friday 27th January 2023. The release comes just before the Celtic Connections debut of Graham's new material on Sunday 29th January 2023.
The record has been inspired by the beauty of the Scottish landscape, and showcases influences from Scottish, Irish and Cape Breton styles of fiddle playing. It combines self-penned tunes with the music Graham has played throughout his career that has shaped him as a musician. Graham also draws on his experience of performing with the cross-genre group the Grit Orchestra by including brass in the line-up of the album.
This beautiful body of work is the follow-up to his critically acclaimed debut album Crossing Borders, written for the New Voices series at Celtic Connections 2015.
As well as Graham Mackenzie on fiddle, a host of musical talent features on the record, including Mike McGoldrick on flute, Innes Watson on guitars, James Lindsay on double bass and bass guitar, Jim Molyneux on piano, keyboards and snare drum, Neil Yates on trumpet, saxophones and flugelhorn and Matt Carmichael on saxophone. The Dawning is also heavily influenced by Mike McGoldrick, who not only recorded on the album but worked as producer. For the compositions on the record, Graham draws on influences from the likes of Liz Carroll and Donald Shaw.
Graham is a founding member of the folk group Assynt, who won Up and Coming Artist of the Year in 2018 at the Scottish Trad Music Awards. Having started playing the fiddle at the age of six, Graham also remains the youngest-ever winner of a Danny Kyle Open Stage award at Celtic Connections.
As a soloist, he has performed at festivals throughout the UK and is a sought-after musician in both the traditional and classical music worlds. He has been a finalist in the BBC Scotland Young Traditional Musician of the Year, BBC Young Folk Award, nominated for Composer of the Year at the Scots Trad Music Awards and was the inaugural winner of Highland Young Musician of the Year.
Graham regularly performs with the Grit orchestra, Aizle, Parisian Baroque ensemble Les Musiciens de Saint Julien and has worked with The Undivided, a folk/jazz fusion project fronted by Mike McGoldrick and Neil Yates. Recently, Graham worked alongside composer Ruth Barrett to record the music to the ITV period drama, Sanditon.
The Dawning showcases everything from lyrical fiddle playing in tracks such as 'Earn River', 'Cula Bay' and 'The Beatons of Mabou', to full band and driving arrangements in 'The Road to Monalea', 'Bridge Street Reels' and 'Josh's Jigs'. 'The Contradiction Reels' give a nod to nostalgia from Graham's early career and is intricately arranged showcasing the exceptional rhythm section heard throughout the album. 'Ardtun', 'Cula Bay' and 'Kirkhill' possess a sense of place, heavily influenced by the beautiful landscapes for which Scotland is renowned and celebrated.
Graham Mackenzie said: "The Dawning title has a few meanings for me. It is the dawn of a new chapter in my development as a musician; it is also a result of the time spent during the recent pandemic where I had time to reflect on my influences, compositions and where I wanted to be as a musician.
"I have continued to write music since the release of my debut album and felt I was ready to record these new compositions using the experience I have gained playing alongside different groups and musicians. I also wanted to record tunes that have been a significant part of my repertoire over the years.
"I have enjoyed the use of brass in arrangements of traditional music, having grown up listening to The Unusual Suspects and being involved in many exciting big band projects during Celtic Connections over the years. This was something I wanted to explore in this album, to fuse jazz and folk together in my own music and you can hear this on several tracks. This is different from the sound of Crossing Borders which centred around string quintet writing and my time studying classical music at the Royal Northern College of Music."
The Dawning was recorded at Gorbals Sound, produced by Mike McGoldrick and mixed by Kevin Burleigh. The record was mastered by Jim DeMain who is based at Yes Master Studios in Nashville and has worked with the likes of Dolly Parton, Luke Bryan, Robert Plant, Nancy Griffith and June Carter Cash.
Graham will be joined by a stellar six-piece band featuring Mike McGoldrick, Innes Watson, Jim Molyneux, James Lindsay, Neil Yates and Matt Carmichael at Celtic Connections on Sunday 29th January 2023, where he will launch the record. He is also arranging a tour for 2023.
The Dawning will be available to buy on CD and to stream and download on all major digital platforms on Friday 27th January 2023. For more information visit www.grahammackenziemusic.com.
Artist website: https://www.grahammackenziemusic.com
Single title: The Contradition Reels
Album title: The Dawning
Release Date: 27/01/2023
Single artist: Graham MacKenzie
Single duration: 5:42
Record Label:
Catalogue No:
Writers: Graham Mackenzie
Publishers: PRS
Explicit?: No
Search Terms: {Search terms:18}
Follow these topics: Featured release, fiddle, Newsletter, Releases