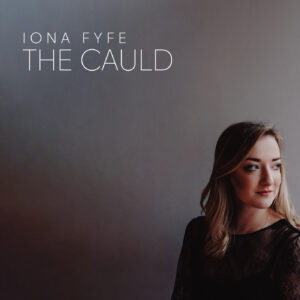 The Cauld is the new single from Scottish folksinger Iona Fyfe. A slight departure from previous releases, the song which follows a folk-pop structure is written by Iona in the Scots Language; one of Scotlands three national languages with over 1.5 million speakers (2011 census).
The single features Michael Biggins (piano) Charlie Stewart (electric double bass), Jack McRobbie (guitar) and Graham Rorie (electric tenor, mandolin fiddle) of the folk band Gnoss, who also engineered, mixed and produced the single.
The Cauld has been played in session on both Music Planet on BBC Radio 3 and The Afternoon Show on BBC Radio Scotland and on BBC ALBA's new series, Under Canvas. The single is accompanied by a live music video.
Iona is nominated in the upcoming third annual Scots Language Awards, which are taking place in person on 25th September at the Gardyne Theatre in Dundee and is open to the public. Iona is nominated for PROJECT OF THE YEAR (Iona Fyfe's Spotify Campaign) and SPEAKER OF THE YEAR. Voting opens on 6th September at www.scotslanguageawards.com
Iona has recently performed to a capacity audience at Pittodrie Stadium in Aberdeen in support of Aberdeen Football Club at a home game against Ross County and is the voice of the team's season ticket social media campaign. Upcoming shows www.ionafyfe.com/tour
Iona is the youngest ever winner of Scots Singer of the Year at the MG ALBA Scots Trad Music Awards and recently performed in the final of the BBC Radio Scotland Young Traditional Musician of the Year final 2021. Iona, who grew up in Huntly Aberdeenshire, has released most of her music in Scots and studied for a degree in Scots Song at The Royal Conservatoire of Scotland.
Artist website: http://www.ionafyfe.com
Single title: The Cauld
Album title: (single)
Release Date: 10/09/2021
Single artist: Iona Fyfe
Single duration: 4:25
Record Label: Iona Fyfe
Catalogue No: IFCAULD21
Writers: IONA GRACE FYFE
Publishers: n/a
Explicit?: No
Search Terms: {Search terms:18}
Follow these topics: contemporary, electronic, Featured release, fiddle, folk band, Guitar, banjo etc, live, piano, Releases, Scots language song, Scottish songs, Scottish Traditions and Culture, songwriter