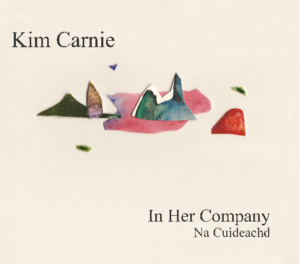 A Traditional Gaelic waulking song; a lullaby to Donald of Sleat. The mother describes the ship which comes into the bay, with three masts of willow, a golden helm, and a well of wine. She wishes the strength of bulls and storms upon her son.
The track features the live line up: guitarist Innes White, fiddler Megan Henderson, pianist John Lowrie and double bassist Euan Burton. Singers Siobhan Miller and Mischa MacPherson also appear on this track and throughout the EP .
The voice of THQ Nordic's 'Black Mirror' trailer and with soundtrack and on-screen appearances in Netflix's 'Outlaw King' (due to be released late 2018), it is unsurprising that Kim Carnie, with her 'velvet-voiced authority' (the Scotsman) has been marked as one to watch.
Kim has performed at a number of festivals across the UK and Europe including Cambridge Folk Festival, Orkney Folk Festival, Hebridean Celtic Festival and Northern Sea Festival (Norway). She is a former member of John Saich's (Caparcaille) MOVE project, which featured Fraser Fifield and Neil Primrose (Travis); and a member of 'Away with the Birds', a vocal piece exploring the relationship between Gaelic and bird song. As well as a stunning televised performance with the BBC Scottish Symphony Orchestra at Celtic Connections 2018; Kim performed with Niteworks at the Hydro to an audience of 8,500; and two sold out shows with her own band. She has recently undertaken recording sessions with Ged Grimes (Simple Minds), producer Jim Sutherland and pop band Kid Canaveral.
A rare talent who is at home on stage and on camera; Kim presented the final 2 series of the award-winning children's TV show Dè a-Nis? (airing until Summer 2018) and is now presenting an all new pop music show 'Alt' featuring bands Franz Ferdinand and Del Amitri, due to air September 2018.
Artist website: http://www.kimcarnie.com
Single title: Tàladh Dhòmhnaill Ghuirm
Album title: In Her Company
Release Date: 28/08/2017
Single artist: Kim Carnie
Single duration: 4.11
Record Label: Self Released
Catalogue No: UKLP9 17 00001
Writers: Traditional, arranged by Kim Carnie, Innes White and Euan Burton
Publishers: Self Released
Explicit?: No
Search Terms:
Follow these topics: contemporary, Featured release, fiddle, folk band, Gaelic language songs, piano, Releases, Scottish songs, Scottish Traditions and Culture