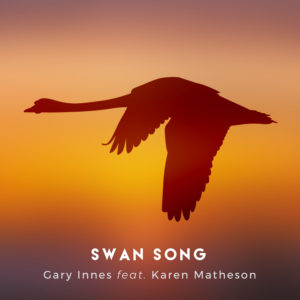 'Swan Song' is the new single from award-winning musician Gary Innes
Featuring vocals by the inimitable Karen Matheson, of Capercaillie fame, the new single is an ode to a number of Gary's friends who sadly have passed away before they were ready to go.
Gary said: "I had the privilege of getting to spend time with some very close friends towards the end of their lives and during these times we spoke at great length about the passing of time and how they were struggling with the thought of being taken before they were ready to go. They asked me to play their swan song for them at their respective funerals and this is where the idea for this single came from. It's incredibly close to my heart and having Karen's vocals on it has really given it the depth I was looking for. It was an honour to know and learn from these individuals and I hope I did their swan song the justice it deserves."
'Swan Song' is a preview to Gary's upcoming album Imminent that will be officially released on Friday 15th February 2019. An album packed full of self-penned tunes and songs, Imminent is a follow-up to Gary's 2017 album ERA that was released to critical acclaim, with Tim Carroll writing "Era is more than one man's reflection, it's a view into the world of a master at work."
Highland born accordionist and MG Alba Scots Trad Awards 'Instrumentalist of the Year' winner, Gary Innes has been performing and composing music proffesionally for over 16 years. Born in the village of Spean Bridge in the North of Scotland, Gary is one of the founding members of award-winning Scottish super-group Mànran,
He picked up an accordion for the first time at the age of 8 and has never looked back. Gary released his first solo album How's the Craic in 2005 and more recently his second solo album ERA was launched at Celtic Connections 2017 to great critical acclaim, with Tim Carroll writing "ERA is more than one man's reflection, it's a view into the world of a master at work."
Gary has also recorded three albums with his current band Mànran, as well as albums with Ewan Robertson and all-accordion group Box Club.
Gary has performed in over 30 countries worldwide.
Adding another string to his bow, Gary began presenting the longest running radio show on BBC Radio Scotland – the world renowned Take the Floor, taking over from the legendary Dr Robbie Shepherd MBE in 2016.
It's little wonder BBC Radio 2's Mark Radcliffe has described him as being "a Jack of all trades and a master of all."
Artist website: http://www.garyinnes.com
Single title: Swan Song
Album title: IMMINENT
Release Date: 15/02/2019
Single artist: Gary Innes
Single duration: 4m 59
Record Label: GHI RECORDS
Catalogue No: GHI02
Writers: Gary Innes
Publishers: MCPS/PRS
Explicit?: No
Search Terms: {Search terms:18}
Follow these topics: Featured release, Releases, songwriter