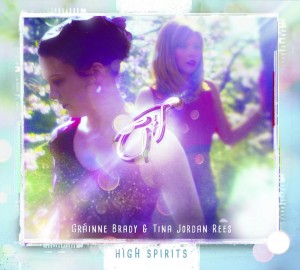 Track title: Shetlag
Bob's Birthday Bash – Tina Jordan Rees
A New Abode – Gráinne Brady
Shetlag – Tina Jordan Rees
Bob's Birthday Bash is for Tina's dad who celebrated his 60th birthday last year. A New Abode was written for Finnian and Mary, friends of Gráinne's parents, who recently moved house. Shetlag is how you feel when returning from a mad trip to Shetland.
Gráinne Brady & Tina Jordan Rees (G&T) are a fiddle and piano duo, originally from Cavan and Lancashire, now based in Glasgow. The girls perform exciting arrangements of their own unique compositions and have recently released their debut album HIGH SPIRITS.
HIGH SPIRITS is jam packed full of original compositions by Gráinne & Tina. On the album the girls play fiddle, piano, flute & whistle and are joined by some fantastic guest musicians on bodhrán, guitar, double bass and accordion to create the lively G&T Big Band sound.
"It's very rare you hear something that makes you go; 'Wow! That's totally original.'" Dick Gaughan
"…a mightily self-contained, superbly able duo." Rob Adams (Sunday Herald, Oct 2015)
Artist website: http://www.grainneandtina.com
Single title: Shetlag
Album title: High Spirits
Release Date: 23/09/2015
Single artist: Gráinne Brady & Tina Jordan Rees
Single duration: 4.57
Record Label: G&T Records
Catalogue No: GTR001
Writers: Gráinne Brady & Tina Jordan Rees
Publishers: –
Explicit?: No
Search Terms:
Follow these topics: Accordion, contemporary, fiddle, folk band, piano, Releases