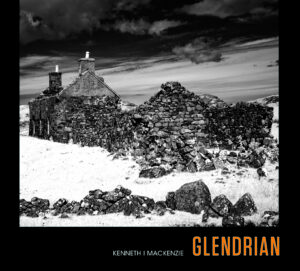 Performed by Kenneth I MacKenzie on harmonica with accompaniment from; Will Marshall, Marie Fielding, Rory Grindlay and Tom Oakes. All tunes composed by Kenneth I MacKenzie apart from tune 7 (CD Turnbull) and tune 8.(D. Wotherspoon).
Album available from:
www.caberfeidhmusic.co.uk (CD)
and
https://caberfeidhmusic.bandcamp.com/ (download)
With his musical roots in world-class pipe bands, Kenny has been involved in Scottish traditional music since the age of 14. Highlights of his far-reaching musical career include performing on Toyota Pipes and Drums' Amazing Grace album – one of the bestselling pipe band albums of all time – and playing around the world including in Denmark, Norway, Russia, Hong Kong and the US.
He has graced stages including The Barrowland Ballroom, supporting The Waterboys, and Glasgow's Royal Concert Hall, where he played Irish composer Shaun Davy's masterpiece The Pilgram with the City of Glasgow Pipes and Drums and the Glasgow Philharmonic Orchestra under conductor Iain Sutherland.
Among his many influential compositions are The Men of the Clyde, written as a tribute to the shipyard workers of the River Clyde and Oor Wullie – Scotland's Oldest Wee Boy, which was re-produced by 'Stuart 'Woody' Wood (Bay City Rollers) and Gordon Campbell and features on their albums, Oor Wullie Sing a long Favourites and A Big Bucket full o tunes.
Kenny MacKenzie said: "I've spent the last few years composing the tunes featured on this album. To my delight, many of them seemed to resonate with trad music fans and fellow musicians online over lockdown and it spurred me on to record this collection of material – my first album in almost 20 years.
"Music and a love of playing is at the heart of Glendrian and it's been a joy to play in my own style and to create and share new tunes.
Artist website: http://www.caberfeidhmusic.co.uk
Single title: Reels: Granny Bheag's Pancakes, Rona MacKillop's Reel, The Road to Cheesebay, Heather Mullet's Wee Reel, Katie Jean Milne's Graduations, Welcome Rosie Morton, Dougie's Dunny and Agony in Arbroath
Album title: Glendrian
Release Date: 11/02/2022
Single artist: Kenneth MacKenzie
Single duration: 3:39
Record Label: Caberfeidh Music
Catalogue No: CMCD02
Writers: Kenneth I MacKenzie, David Wotherspoon and CD Turnbull
Publishers: Kenneth I MacKenzie
Explicit?: no
Search Terms: {Search terms:18}
Follow these topics: Featured release, harmonica, Newsletter, Releases