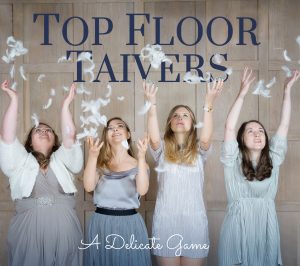 Taken from the debut album 'A Delicate Game', Princess Rosanna is a song by Scottish singer songwriter Findlay Napier. Findlay was inspired to write this song after seeing graffiti that said "RIP Princess Rosanna" whilst on a run along the river Clyde in Glasgow.
Top Floor Taivers are a young and fresh Glasgow based band performing traditional and contemporary Scottish songs and tunes. Coming from Scotland, England and Ireland, Top Floor Taivers combine stunning vocals with piano, fiddle and clarsach to create unique arrangements of traditional folk songs and tunes as well as their own compositions.
Nominated in the Up and Coming Artist category at the 2016 MG ALBA Scots Trad Music Awards, Top Floor Taivers released their highly anticipated debut album A Delicate Game in January 2017. With unique arrangements of traditional Scottish songs like The False Bride, to contemporary Scottish songs like Princess Rosanna by Findlay Napier, and Everybody Knows by Leonard Cohen, this exciting new album has something in it for everyone.
Since forming in 2013 the band have performed across Scotland and Ireland, with highlights including BBC Music Day, Stonehaven Folk Festival, Edinburgh's Hogmanay Street Party, and Celtic Connections amongst others. In 2017 they will be touring their new album and will be performing a tour of Germany in 2018.
These four are incredibly talented. Certainly worthy of a lot more exposure. Four to watch out for.
FOLK RADIO UK
Top Floor Taivers are:
Claire Hastings – Lead vocals, ukulele
Tina Jordan Rees – Piano, vocals
Heather Downie – Clarsach, vocals
Gráinne Brady – Fiddle, vocals
Album guest: Tia Files – Percussion
Artist website: http://www.topfloortaivers.com
Single title: Princess Rosanna
Album title: A Delicate Game
Release Date: 28/01/2017
Single artist: Top Floor Taivers
Single duration: 4:22
Record Label: TFT Records
Catalogue No: TFTR001
Writers: Findlay Napier
Publishers: .
Explicit?: No
Search Terms:
Follow these topics: clarsach / harp, contemporary, English language songs, Featured release, fiddle, folk band, piano, Releases, Scottish songs, songwriter