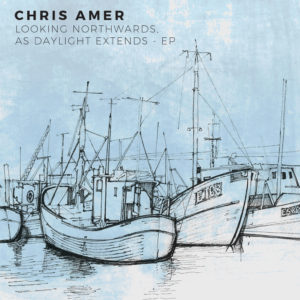 'Pondering On Perth Road' was written by Chris Amer after a week-long stay in the West End of Dundee in February 2017. Dundee's situation on the Tay estuary gives it a coastal atmosphere; in February, this meant a combination of expansive skies, cold fresh air, and winter light.
All guitars played by Chris Amer.
This track features on Chris Amer's new solo EP: 'Looking Northwards, As Daylight Extends – EP'.
Scottish guitar player Chris Amer is slowly but surely establishing a reputation for his tasteful, distinctive, musically intelligent playing style. Over the past few years Chris has developed an original sound that utilises space, texture and carefully chosen notes; this ethos informs both his musical voice as a guitarist and his work as a composer.
Chris is a founding member of contemporary trio, 'Amer//Hawksworth//Munro', who released their debut EP in 2016. Chris has also released two solo EPs, the most recent of which was a collection of original multi-tracked guitar music – Looking Northwards, As Daylight Extends EP – inspired by various places, experiences and musings.
Having completed his Jazz studies at the Royal Conservatoire of Scotland, Chris is currently working towards an MA in Scottish Music, exploring tune accompaniment on a unique guitar instrument built to his own design by Taran Guitars.
Artist website: http://www.chrisamer.com
Single title: Pondering On Perth Road
Album title: Looking Northwards, As Daylight Extends – EP
Release Date: 16/10/2017
Single artist: Chris Amer
Single duration: 03:55
Record Label: Chris Amer Music
Catalogue No: CA15002CD
Writers: Chris Amer
Publishers: Chris Amer Music
Explicit?: No
Search Terms:
Follow these topics: Featured release, Guitar, banjo etc, Releases