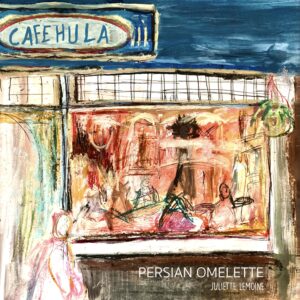 'Persian Omelette' is the first single to be released from my debut album 'Soaring', which celebrates and explores the theme of freedom. I chose the title 'Persian Omelette' as it was a much sought-after dish at the popular Cafe Hula in Glasgow's city centre. The cafe had walls covered in local art and a weekly live music session, and quickly became a central hub for students and local musicians. I have such fond memories of Cafe Hula, and it was the backdrop to my first few years living in Glasgow as a student experiencing the freedom of living independently for the first time.
Trailblazing a path as a cello soloist, Juliette Lemoine is exploring and redefining the cello's role within Scottish Traditional Music. She is set to burst onto the scene with her debut album 'Soaring', launching with a sold-out headline performance at Celtic Connections. Her emotive compositions weave through Scottish Traditional, Western Classical, and Jazz genres to create a highly personal new voice. Leading an all-star band of some of Scotland's most exciting young musicians in the unique line-up of cello, fiddle, piano, and tenor saxophone, this will be a euphoric celebration of the theme of freedom.
"Epic debut from one of Scotland's leading lights of trad cello…envelops you completely in a haze of beauty and warmth." — Natalie Haas
Juliette's playing has taken her across the UK performing at Blas Festival, Celtic Connections, HebCelt, Aberdeen Jazz Festival and the BBC Proms alongside members of the BBCSSO. She is passionate about exploring and redefining the cello's role within contemporary Scottish traditional music, and in particular exploring its potential in driving the musical narrative in the way that a fiddle traditionally would. 'Soaring' is supported by the Beatrice Huntington Award for cellists.
Artist website: http://www.juliettelemoine.com
Single title: Persian Omelette
Album title: Soaring
Release Date: 16/12/2022
Single artist: Juliette Lemoine
Record Label:
Catalogue No: JULE0001
Writers: Juliette Lemoine
Publishers: Juliette Lemoine
Explicit?: No
Search Terms: {Search terms:18}
Follow these topics: contemporary, Featured release, fiddle, folk band, live, miscellaneous, Newsletter, Releases