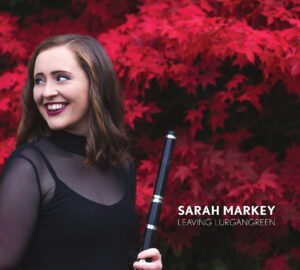 Off She Jumped was the first track I released to launch pre-orders for my debut solo album "Leaving Lurgangreen." I will be launching the full album on 6th May 2022.
Myself and Marty Barry had put this set together for an online video during lockdown, and back then the whole album was on hold because of restrictions. This was the only way we could really play together and I loved the set and decided to include it in the album.
The first tune in the track is The Tullylish March composed by Marty and the second tune "Off She Jumped" is a jig of my own composition. I named the tune after the time when I got my brand new harp from Canada. I was in the middle of playing the tune when I accidentally knocked a glass picture frame of my granny off the table and off she jumped, straight into the soundboard of the new harp leaving a great big dent…
Sarah Markey is a flute player, singer and harpist whose musical upbringing, whilst steeped in traditional music, has a very different influence mainly from the multi-faceted Scottish traditional music scene. In 2019 she was a BBC Radio Scotland Young Traditional Musician of the Year finalist and has collaborated with some of the traditional music scene's top artists, including Calum Stewart and Mec Lir.
Sarah creatively blends Irish and Scottish traditional styles to create self-penned tunes and folk songs. Through her work, she has also drawn on her own experiences of living abroad in Spain and her interest in Asturian traditional music. Although her music charts a story of immigration which is far from uncommon, it's one that has yet to be fully explored musically.
6th May 2022 will see the release of her long-awaited debut solo album 'Leaving Lurgangreen' which will feature a number of guest musicians. The album is dedicated in memory of her grandmother who was from Lurgangreen, co. Louth Ireland. With the album being a reflection on her musical journey so far, it will feature a mixture of her own compositions and traditional repertoire from Scotland, Ireland and Spain.
Joining her on the album will be special guests; Marty Barry (guitar/bouzouki/banjo), Charlie Stewart (double bass/fiddle/strings), Jack McRobbie (guitar), Conor Markey (bouzouki/banjo), Hayley Keenan (piano), Calum Stewart (uilleann pipes/harmonium) Eamonn Nugent (bodhrán), Rubén Bada (bouzo
Artist website: http://sarahmarkey.com
Single title: Off She Jumped
Album title: Leaving Lurgangreen
Release Date: 04/03/2022
Single artist: Sarah Markey
Single duration: 4.46
Record Label: Sarah Markey (self-released)
Catalogue No: SMM001
Writers: Sarah Markey and Martin Barry
Publishers: Birnam CD
Explicit?: No
Search Terms: {Search terms:18}
Follow these topics: Featured release, folk band, Releases