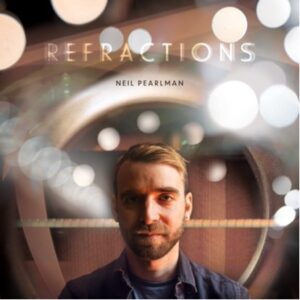 Acclaimed New England pianist Neil Pearlman is set to release his highly anticipated debut solo album Refractions, featuring all new compositions of traditional Scottish tunes, on Friday 5th May 2023.
Refractions is an exciting compilation of traditional Scottish and Gaelic songs, reimagined and specially arranged for solo piano, and brought to life by Neil's incredible improvisational skills and unique playing style. Neil breathes new life into the tunes, from recognisable numbers to more obscure melodies, treating some as a springboard for improvisation, while allowing the simple beauty of others to shine as they are.
Based in Portland, Maine, Neil was brought up in a musical family, surrounded by Scottish and Cape Breton music from a young age. Best known for his groundbreaking approach to the piano in Celtic music, Neil has performed and taught in the Scottish, Cape Breton and Celtic music communities in the US, UK, Canada and Spain for many years. He regularly tours with Shetland fiddler Kevin Henderson and has worked on several projects with fiddler Katie McNally, to name just a few of his musical partnerships. He is also the host of the TradCafe podcast, a series of conversations and collaborations with musicians from a wide variety of cultures and traditions.
Neil Pearlman said: "I was lucky to grow up in a very musical household, and gained an appreciation for the rhythms that underpin traditional music as a child when I learned Scottish and Cape Breton traditional dancing from my mother. I gained my love of bagpipe tunes and Gaelic song melodies from my father and his fiddling.
"I decided to focus on the Gaelic song repertoire on Refractions because those melodies always carry a deep emotional power for me and are fruitful sources of inspiration for improvisation. I spent a lot of time with written collections and archival recordings of Gaelic songs to see what gems I could bring to light, alongside a few better known tunes that I couldn't resist.There are a few pieces on the album that are not Gaelic, but the majority are from Gaelic sources. The fiddle and bagpipe tunes on the album are pieces that I had been working on for some time but never recorded. They complemented the rest of the material so well I knew I had to include them.
"The choice to focus on traditional Scottish melodies is my way of paying respects to my roots. Traditional Scottish tunes are some of the very first music I ever heard or played, so going into that repertoire and having a conversation with it as the artist I am today was a powerful experience, and a good way to explore both who I am now and where I come from."
The first track on the album is O, Is Àlainn an t-Àite / Biodh an Deoch Seo 'n Làimh Mo Rùin, the first part of which describes the beauty of Cape Breton. It is one of the first Gaelic songs ever written there by Michael MacDonald from South Uist. The second part is a love song whose title translates to "the drink would be in my love's hand." Though there are a number of different versions of the song, Neil based his composition on Julie Fowlis' unique rendition, replicating slight changes in the melody that come from the way the lyrics are sung.
Cumha Iain Garbh is another beautiful track which features on the record, one Neil came across in Anne Lorne Gillies' book 'The Songs of Gaelic Scotland'. The tune is a mournful lament for the death of the heroic figure Iain Garbh of Raasay, one of the many his sister is said to have written in the year after his death.
Refractions follows Neil's 2020 collaborative albums Now More Than Ever with the Katie McNally Trio, and Burden Lake with Kevin Henderson. In 2015 Neil released the experimental album Run to Fly under the name Alba's Edge, a joint project with his sister which was produced by acclaimed Scottish fiddler Aidan O'Rourke.

To celebrate the release of Refractions, Neil will be touring the USA and UK in April and May 2023.
Refractions will be available on CD and vinyl, and to stream and download on all major digital platforms, from Friday 5th May 2023. For more information visit neilpearlman.com.
Artist website: https://neilpearlman.com/
Single title: O, Is Àlainn an t-Àite / Biodh an Deoch Seo 'n Làimh Mo Rùin
Album title: Refractions
Release Date: 08/05/2023
Single artist: Neil Pearlman
Single duration: 5:58
Writers: Traditional
Publishers: PRS
Explicit?: No
Search Terms: {Search terms:18}
Follow these topics: Featured release, Newsletter, piano, Releases