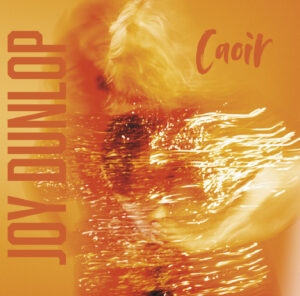 Mo nighean donn, ho gù is a traditional Gaelic waulking song. The track leans into the rhythmic aspects of the tradition and plays around with the accompaniment, with the backing vocals also imitating and exaggerating the beat-driven feel of a waulking song, which would have been sung during the tweed or tartan-making process.
Bringing the album's buoyant sound to life alongside Joy's tantalising Gaelic song are Ron Jappy on guitar, Mhairi Marwick on fiddle, Gus Stirrat on bass, Ifedade Thomas on drums, and Euan Malloch on electric guitar, with drum and bass brought into the mix on Joy's music for the first time.
On Mo nighean donn, ho gù, the bolder arrangements lend it a lush contemporary feel without surrendering the song's timeless feel. If anything, this contemporary take empowers the heart of the song. It certainly lives up to the album's title, which translates as a blaze of fire, fiercely burning, flames or flashes…
Joy Dunlop's singing career is the result of a life–long fascination with Scotland's traditional music and has led her all over the world; from major Celtic festivals, to touring the UK, Europe, Canada, USA, Japan and New Zealand. She has been nominated as Gaelic Singer of the Year no less than four times and has a Royal National Mòd Gold Medal to her name.
A much-loved broadcaster, Joy's face and voice are well-known from her wealth of television and radio work, including as BBC Scotland and BBC ALBA weather presenter, BBC Radio Scotland Young Traditional Musician of the Year presenter and host of Speak Gaelic.
She also conducts the Alba Choir, Scotland's first and only Eurovision entry, who participated in the 2019 Eurovision Choir of the Year finals in Gothenburg, Sweden.
Artist website: http://www.joydunlop.com/
Single title: Mo nighean donn hò gù (My brown haired girl hò gù
Album title: Caoir
Release Date: 24/03/2023
Single artist: Joy Dunlop
Single duration: 03:38
Record Label: Sradag Music
Catalogue No: SRM008
Writers: Trad
Publishers: Trad
Explicit?: No
Search Terms: {Search terms:18}
Follow these topics: contemporary, Featured release, fiddle, folk funk, folk rock, Gaelic language songs, Guitar, banjo etc, Newsletter, Releases, Scottish songs