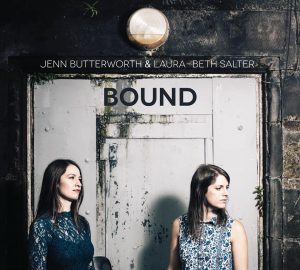 Let the Sun Shine Down on Me is the opening track of 'Bound,' the debut album from Jenn Butterworth and Laura-Beth Salter. Jenn is on guitar and lead vocal for this Jean Ritchie Song, and Laura-Beth on mandolin. Here's what they have to say about the album;
"This album is a representation of the last 8 fantastic years of playing together. A snapshot of where we have come from and where we are now. We hope you enjoy listening to it as much as we have enjoyed playing and recording it."
'Bound' will be launched in Glasgow on the 24th November 2016 at Bar Gumbo – see their website for details.
Jenn and Laura-Beth have each been a presence on the UK folk scene for a number of years. They were brought together by the close-knit and progressive Glasgow folk music community, spending lots of their time jamming an eclectic mix of folk music from across the globe, particularly the UK, Scandinavia and America. The years of playing together brought a deep affinity between the two artists; their rhythms lock tightly, their voices blend so closely that it's often hard to tell them apart.
Jenn Butterworth is one of Scotland's foremost female guitarists, and has toured extensively with the award winning Anna Massie Band. As an accompanist she is in high demand, her most recent collaborations have involved Songs of Separation, Phil Cunningham and Fiddler's Bid.
Laura-Beth Salter takes influence from the Oldtime and Bluegrass music that her parents played whilst she was growing up in Lincolnshire. After spending time studying a Traditional Music Degree in Newcastle she became heavily involved in the folk scene. She is a founding member of The Shee and her most recent collaborations involve Shooglenifty and The MacLean Project led by the world renowned Perthshire singer Dougie MacLean.
Artist website: http://www.jennandlb.com/
Single title: Let the Sun Shine Down on Me / Than Hall's
Album title: Bound
Release Date: 24/11/2016
Single artist: Jenn & Laura-Beth
Single duration: 03:27
Record Label: JBLB Records
Catalogue No: JBLB01
Writers: Jean Ritchie, Jenn Butterworth
Publishers: n/a
Explicit?: n/a
Search Terms:
Follow these topics: English language songs, Featured release, folk band, Guitar, banjo etc, Releases