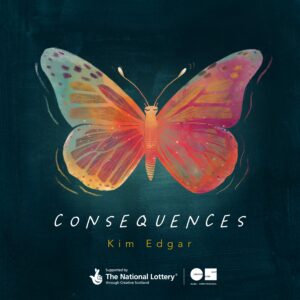 I've released a new song which I wrote with J-P Piirainen (Finland), that I hope might be of interest to you. We began our remote collaboration on Thursday 24th February 2022, the day that Russia began a full scale invasion of Ukraine.
It Only Takes A Silence reflects on our individual responsibility to respond to human tragedy, and celebrates those who speak out and take action when they witness injustice. It's the sixth of twelve songwriting collaborations as part of the CONSEQUENCES project, focused on the personal, social or environmental consequences of human behaviour. CONSEQUENCES album release date is not yet confirmed, but album pre-orders will be delivered in October 2022.
You can find out more about how the unique hybrid instrument J-P has created, which he calls a guitele, how our music took inspiration from Finnish runo singing and the meaning of the Finnish words from traditional texts here:
https://www.kimedgar.com/news/collaboration-6-j-p-piirainen/
The project, supported by Creative Scotland, will conclude with an online celebration in October 2022. People can support the project and attend the celebration by pre-ordering the album from https://www.kimedgar.com/shop
Fuelled by a passion for social justice, folklore, and feminism, Edinburgh based folk-pop singer songwriter Kim Edgar crafts keenly observed details of people's lives into "imaginatively and beautifully crafted songs" (Maverick) that reach out and touch listeners.
Emotion and connection are at the heart of this Edinburgh-based pianist and songwriter's work: through observed and lived experiences, Kim ponders what it is to be human, creating stories told with honesty and empathy that open hearts, minds and discussions. Her intensity and intimacy in performance have also attracted glowing reviews:
"Heart stopping…our very own Tori Amos" (Sunday Herald)
"Intense and thought provoking" (The List)
"very moving, literate, allusive and expressively sung" * * * * * (Scotland On Sunday)
With four critically acclaimed solo albums under her belt, Kim has been described as "an example of everything that's great about contemporary music" and "probably one of the best songwriters in Britain today." * * * * * (Spiral Earth). Kim's latest album, Held (2020), considers grief, addiction, and solidarity, and offers a musical hug for anyone who's struggling at the moment.
Described as "strangely uplifting, despite the well – phrased, sombre lyrics" and "a comfort blanket for the disillusioned soul" (The BIG Issue), Kim's songs capture distilled emotions, that increasingly wide audiences across the UK, and beyond, are identifying with and responding to.
Artist website: http://www.kimedgar.com
Single title: It Only Takes A Silence
Album title: CONSEQUENCES
Release Date: 01/04/2022
Single artist: Kim Edgar
Single duration: 4:05
Record Label: Quietly Fantastic Music
Catalogue No: QFM006
Writers: Kim Edgar & J-P Piirainen
Publishers: N/A
Explicit?: No
Search Terms: {Search terms:18}
Follow these topics: contemporary, Featured release, Guitar, banjo etc, Newsletter, piano, Releases, songwriter