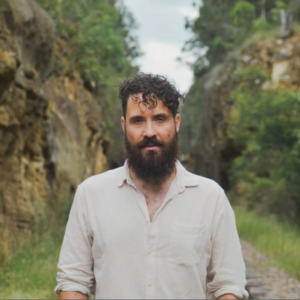 Here's our finished song – In The Long Run!
"It's not enough to ask the question
When will these horrors cease?
Boxes pile up all around us
'Til we commit to peace"
Another first for this final month of the CONSEQUENCES project – William and I collaborated over Facebook Messenger! And it's incredible that we managed to pull it off, considering that William was touring Europe at the time…
I have deeply admired the passion and the political content in William's work, which you can get to know yourself here: https://williamcrightonmusic.com.au/ William and I had talked about ideas of refuge and compassion in advance by email, which led to us exchanging some lyrical ideas around the impact of war on the most vulnerable in our society. Having accidentally missed William's best window of opportunity for collaborating earlier in the year, I'm extremely grateful that he was still up for the collaboration, even though it meant him recording ideas (like the lyrics and melody of the refrain!) into his phone, straight after coming off stage at a festival!
A huge thank you to the talented creative team who helped bring the song to life in this recording, and with whom it's been a delight to work with over the course of the project – to Mattie Foulds (drums, production), Kevin McGuire (bass) and Mikey Owers (vocals, brass).
It's maybe not the upbeat way some might want to finish an album, but it feels right to me that we're acknowledging the reality and the horror of what's happening across the world right now. Nevertheless, I'm pleased to end the album on an offer of warmth and comfort – something that those of us lucky enough to be in a position of privilege can choose to give others.
3 QUICK FACTS ABOUT KIM
Kim has performed at Cambridge Folk Festival and on Later With Jools Holland (as a member of The Burns Unit), and also for HRH The Queen at the opening of the Scottish Parliament's fourth session.
Paolo Nutini performed one of Kim's songs, "1, 2, 3, 4, 5" with Karine Polwart (who co-wrote the song) on BBC Scotland's Hogmanay Show.
The BIG Project Youth Choir, which Kim leads, sang "O Flower Of Scotland" for the London 2012 Olympic Opening Ceremony, and were also featured performing live on BBC Children in Need with Gareth Malone.
Artist website: https://www.kimedgar.com/news/collaboration-12-william-crighton/
Single title: In The Long Run
Album title: CONSEQUENCES
Release Date: 04/10/2022
Single artist: Kim Edgar and William Crighton
Single duration: 3:34
Writers: Kim Edgar, William Crighton
Publishers: MCPS
Explicit?: No
Search Terms: {Search terms:18}
Follow these topics: Featured release, Newsletter, Releases, songwriter