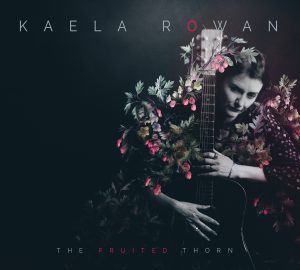 Kaela was inspired to record If I Was A Blackbird by Silly Wizard and the singing of the late, great Andy M Stewart. It's the age old tale of a sailor who is spurned by an ungrateful lover and takes to the high seas to drown his sorrows. This is one of three haunting maritime ballads on Kaela's new album The Fruited Thorn. James Mackintosh's arrangement perfectly evokes the swell of the sea, adding to the turmoil of the troubled narrator.
Kaela Rowan's voice has come a long way since her teens when she was singing in folk bands and playing sessions and festivals around her home in the Scottish Highlands. Citing an eclectic range of early influences – John Martyn, Planxty and Joni Mitchell, amongst others – Kaela has since forged her own unique path in the Scottish music scene.
Kaela Rowan is best known as lead singer with the influential Scottish band Mouth Music. She recorded four albums with the band and toured globally with them in the 1990s.
Much in demand for her beautiful voice, she has recorded and performed with Eliza Carthy Band, Karen Matheson, The Mike McGoldrick Band, Eliza Nusa, Anna Murray, The Loveboat Big Band, The Bevvy Sisters and many more. Most recently she joined Shooglenifty for their acclaimed seventh album The Untied Knot, bringing a dynamic new element to the band's sound. She toured extensively with the Shoogles throughout 2015, and will be on the road with the band again in 2016 including gigs in Holland, Australia, New Zealand, Austria, Switzerland, Denmark and India.
The Fruited Thorn is Kaela's second solo album. She released Menagerie in 2014.
Artist website: http://www.kaelarowan.net
Single title: If I Was A Blackbird
Album title: The Fruited Thorn
Release Date: 05/08/2016
Single artist: Kaela Rowan
Single duration: 6:04
Record Label: Shoogle Records
Catalogue No: SHOOGLE 16016
Writers: Trad arr J Mackintosh and K Rowan
Publishers: MCPS/PRS
Explicit?: No
Search Terms:
Follow these topics: English language songs, Featured release, folk band, Releases, Scottish songs, Scottish Traditions and Culture