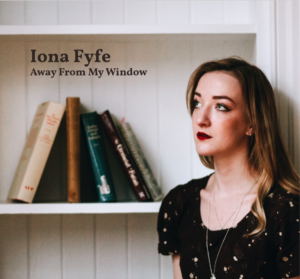 'Guise of Tough' by Iona Fyfe – Available Now
Taken from the album 'Away From My Window' out 24th March 2018
Pre-order the full album: www.ionafyfe.bandcamp.com
Produced by Jani Lang (www.dallahanmusic.com)
Iona Fyfe – vocals
Luc McNally – guitar
Tim Edey – melodeon, nylon guitar
Jani Lang – fiddle
Graham Rorie – mandolin
Charlie Stewart – bass
Cameron Nixon – vocals
David Foley – bodhran
This is a song which I would often hear at singarounds, sessions and bothy ballad competitions. Growing up, I'd attend many Traditional Music and Song Association and Buchan Heritage Society events, in which I met many singers such as Joe Aitken, Geordie Murison, Jim Taylor and Scott Gardiner, all of whom would often o er the audience a great rendition of this bothy ballad (and an even greater swalley of fusky!)
The song is about a man who is hired by "Jimmy Broon", after an initial feed of bread and cheese, he soon finds that he is disappointed in the quality of his horses, and the plough doesn't work either! I met the legendary Jock Duncan in 2012 at Turriff Bothy Ballad Competition where he was adjudicating the senior bothy ballad competition, and the terrifed 14-year-old me.
Found in John Ord's Bothy Songs and Ballads and in the Grieg-Duncan Folk Song Collection (3:378) Roud 3800
lyrics
Aberdeenshire folksinger, Iona Fyfe, has become one of Scotland's finest young ballad singers, rooted deeply in the singing traditions of the North East of Scotland. At twenty, Iona has established a strong voicing of place in her repertoire and was a nominee for Scots Singer of the Year at the MG Alba Scots Trad Music Awards. A finalist in the BBC Radio Scotland Young Traditional Musician of the Year 2017, Iona has been described as "one of the best that Scotland has to offer." (Global-Music.de) and was the winner of the Molloy Award at The Trip to Birmingham Irish Trad Fest 2017.
Iona's 2018 debut release, "Away From My Window" is a concept album, inspired by the source and revivalist singers of Aberdeenshire. Featuring archive clips of singers such as Stanley Robertson and Lizzie Higgins, Iona aims to showcase revivalism in folksong by creating a programme of modern interpretations of old ballads and self-penned songs in a traditional style. Whilst drawing on the work of Scottish songwriters such as Michael Marra and Aidan Moffat (Arab Strap), Iona aims to showcase the universalism of folksong in an inter-genre manner. Iona will be touring her album throughout the UK in March and will perform in Fergus, Ontario in April before a tour of Germany, Austria and Italy in October.
Artist website: https://ionafyfe.com/
Single title: Guise of Tough
Album title: Away From My Window
Release Date: 01/03/2018
Single artist: Iona Fyfe
Single duration: 5:21
Record Label: Cairnie Records
Catalogue No: IF18AWAY
Writers: Trad / Iona Fyfe
Publishers: n/a
Explicit?: No
Search Terms:
Follow these topics: Accordion, bagpipes, Featured release, fiddle, folk band, Guitar, banjo etc, piano, Releases, Scots language song, Scottish songs, Scottish Traditions and Culture