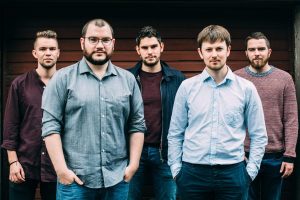 'Father Quinn's' is the debut track from new folk band, Aizle. Recorded, mixed and mastered at GloWorm Studios in Glasgow by Gus Stirrat, the track features on the band's first EP.
Father Quinn's – Sean Ryan
Apsley Cottage – Colin Farrell
Mrs Mackenzie's Dilemma – Ron MacLean
Kindled out of Manchester's thriving music scene, new instrumental quintet Aizle – the Scots word for 'spark' – light the touch-paper under an inventive mix of new and traditional tunes. Aizle are made up of five highly respected musicians amongst the UK folk scene and have recently launched their debut EP at Celtic Connections 2017. Officially making the debut at 2015 Birmingham TradFest, the band look forward to performing throughout 2017 on the back of their new release.
Aizle:
Graham Mackenzie (fiddle)
Ciaran Clifford (whistles)
Joe Bardwell (guitar)
Jim Molyneux (piano)
Stewart Wilson (double bass)
Artist website: http://www.aizlemusic.com
Single title: Father Quinn's
Album title: Aizle EP
Release Date: 24/01/2017
Single artist: Aizle
Single duration: 6:16
Record Label: Ducie Street Records
Catalogue No: DSR001CD
Writers: Sean Ryan/Colin Farrell/Ron MacLean arranged by Aizle
Publishers: N/a
Explicit?: No
Search Terms:
Follow these topics: Featured release, fiddle, folk band, Releases