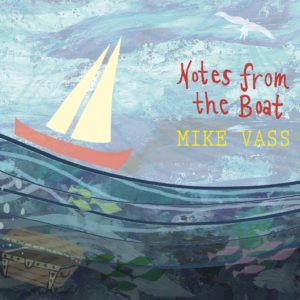 Mrs Thom, was penned as a birthday gift for university friend Louise Thom– Ewing referring to the name of the hall of residence in Edinburgh where they once lived. Special guest on this upbeat number is the in-demand guitar and mandolin player Innes White.
Listen out for: VHF radio squelch, a winch handle and an instructive line from Mary Blewitt's 'celestial navigation for yachtsmen'.
Mike Vass is one of the most creative forces on the Scottish music scene. As a musician, composer, producer and arranger Vass has amassed a body of work that encompasses early appearances as a livewire young fiddler, collaborations with many of the leading voices among today's Scots and Gaelic tradition bearers, delivering multi-media performances, overseeing critically acclaimed recordings, and scoring for prestigious ensembles.
Vass has developed into an award-winning composer who can marshal ideas from literature and visual art into multi-media works for folk groups and string quartets, as on his In the Wake of Neil Gunn suite and album, and extended pieces for large scale instrumentation including his Away Being commission for Edinburgh Youth Gaitherin'. His 2010 Celtic Connections commission, String Theory, has become one of the yardsticks for the festival's New Voices strand.
Vass took a sabbatical in 2017 a 2,500 mile sailing adventure taking in Ireland, Isle of Man, Wales, England, Spain, Portugal, Madeira and the Canary Islands which culminated in the release of his 2018 album 'Notes from the boat' featuring ten guest musicians – Fiddlers Duncan Chisholm, Gillian Frame, Anna Massie and Isle of Man-born, Glasgow-based Tomas Callister alongside accordionist Mairearad Green, harpist Corrina Hewat, mandolin and guitar player Innes White, whistle player Conal McDonagh, multi-instrumentalist Innes Watson and Vass's twin sister Ali Vass on melodica.
Artist website: https://mikevass.com
Single title: Ewing featuring Innes White
Album title: Notes from the boat
Release Date: 27/07/2018
Single artist: Mike Vass
Single duration: 2.23
Record Label: Unroofed
Catalogue No: UR004CD
Writers: Mike Vass
Publishers: PRS/MCPS
Explicit?: No
Search Terms:
Follow these topics: contemporary, electronic, Featured release, fiddle, Guitar, banjo etc, Releases