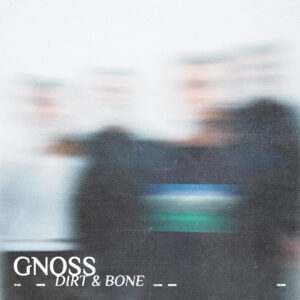 Gnoss will release their nostalgic new single Dirt & Bone on Friday 11th November 2022. The track, set against the teenage backdrop of the North American railway is inspired by street photographer Mike Brodie's Tones Of Dirt And Bone collection.
Gnoss showcases the talents of Graham Rorie on electric tenor guitar/mandolin, Aidan Moodie on acoustic guitar/vocals, Connor Sinclair on whistles, synths and harmony vocals, Craig Baxter on bodhran & percussion and James Lindsay on double bass and electric bass.
The group, dubbed as a "formidable presence on the Scots traditional music scene" by Folk Radio UK, are triple Scots Trad Award nominees, having built an invested following through their forward-thinking take on traditional music and the unique warmth of their live shows. They also had two back-to-back sellout appearances at Celtic Connections festival.
Their 2019 release Drawn From Deep Water was met with widespread praise for its exemplary interplay, nakedly emotional playing, and well chosen material. The 11-track album brought Gnoss to audiences across France, Italy, Denmark, and Russia, not to mention the length and breadth of the UK.
Their follow up album, The Light of The Moon continued to demonstrate Gnoss' dedication to their craft and placed them firmly at the fore of the Scottish folk scene, alongside earning them a nomination for Album of the Year at the Scots Trad Music Awards.
Dirt & Bone is about nostalgia, memory, punk-rock idealism and old friends, set against a teenage backdrop of the North American railway. The track has a signature acoustic sound upon a bed of pop-inspired layers; electric guitars, drum machines, and bass-lines from analogue synths. The result is a truly colossal-sounding track, marking the single as an exciting progression in Gnoss' sound.
Aidan Moodie said: "I wrote this one whilst pouring over street photographer Mike Brodie's Tones Of Dirt And Bone collection. He shot polaroids of the people he met whilst hopping trains throughout his teens and early twenties.
"It got me thinking about growing up and the people I shared that time with; the memories we made and the ones we didn't quite get to and that became the inspiration for this single."
Recorded in autumn 2022 with Scott Wood at Oak Ridge Studios and additional recording done with Graham Rorie at Rumley Sounds. The track was mixed by Scott Wood and mastered by Nick Cooke, composed by Aidan Moodie and arranged by Gnoss.
Dirt & Bone will be available to download and stream from Friday 11th November 2022.
Gnoss are from Orkney.
Artist website: https://gnossmusic.com
Single title: Dirt & Bone
Release Date: 11/11/2022
Single artist: Gnoss
Single duration: 3:57
Writers: Aidan Moodie
Publishers: MCPS
Explicit?: No
Search Terms: {Search terms:18}
Follow these topics: Featured release, folk band, Newsletter, Releases