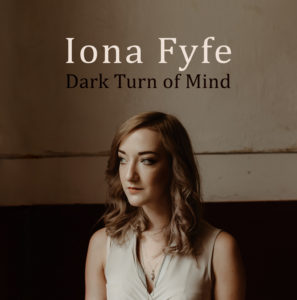 Written by Gillian Welch and David Rawlings and released on Gillian's 2011 album, The Harrow and The Harvest. It has since been performed and recorded by artists such as Chris Thile and Josienne Clark and Ben Walker.
Dark Turn of Mind is the new release from MG ALBA Scots Singer of the Year, Iona Fyfe. The 6-track EP, features ballads which were collected in both Aberdeenshire and the Appalachian Mountains and draws on the repertoire of singers such as Jean Ritchie and Jeannie Robertson. Dark Turn of Mind features material written by Gregory Alan Isakov and title-track writer, Gillian Welch. Released in January 2019, Dark Turn of Mind was produced by Graham Rorie at Rumley Sounds and features a stellar folk line-up of musicians such as Aidan Moodie (Gnoss), Rory Matheson (TRIP) and Graham Rorie (Gnoss).
"Encompassing a new interpretation to the country genre. An infectiously gorgeous style."
★★★★ – Maverick
"Dark Turn of Mind keeps the crystalline vocals and tumbling sunkissed melodic smarts, but with lyrics now in English. Great things surely await." ★★★★ – Country Music Magazine
"Describing Iona Fyfe as a Scottish folksinger is probably doing her an injustice, as the versatility displayed on her new EP release, Dark Turn of Mind, reflects her grasp and understanding of jazz, Americana and much more." – RnR Magazine
Aberdeenshire folksinger, Iona Fyfe, has become one of Scotland's finest young ballad singers, rooted deeply in the singing traditions of the North East of Scotland. Winner of Scots Singer of the Year at the MG ALBA Scots Trad Music Awards 2018, Iona has been described as "one of the best Scotland has to offer." (Global-Music.de) With a number of high profile appearances under her belt, Iona, a mere 21 years of age, has spent 2018 performing in the UK, Poland, France, Germany, Austria, Italy, Switzerland and Canada and begun 2019 with a performance with the BBC Scottish Symphony Orchestra as part of the World Premiere of Disney Pixar's Brave in Concert at Glasgow Royal Concert Hall.
Released in 2019, Dark Turn of Mind is Iona's first EP entirely in English and features six ballads and songs found in both Appalachia and Aberdeenshire and has been described as "a new interpretation to the country genre" – Maverick. A sell-out show at Edinburgh Fringe Festival for two consecutive years, Iona was a finalist in the BBC Radio Scotland Young Traditional Musician of the Year and won the Molloy Award at Birmingham Irish Trad Fest. In 2018, Iona performed at Interceltique Festival De Lorient where she was described as "a Scottish folksinger, magical and charismatic" (Rolling Stone, France).
Artist website: https://ionafyfe.com/
Single title: Dark Turn of Mind
Album title: Dark Turn of Mind
Release Date: 01/01/2019
Single artist: Iona Fyfe
Single duration: 3:48
Record Label: Cairnie Records
Catalogue No: IF19DARK
Writers: Gillian Welch and Dave Rawlings
Publishers: n/a
Explicit?: No
Search Terms: {Search terms:18}
Follow these topics: contemporary, English language songs, Featured release, folk band, Guitar, banjo etc, piano, Releases, songwriter