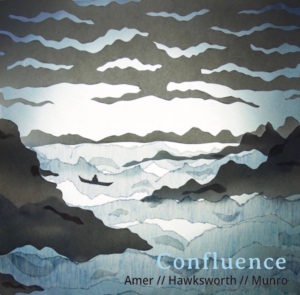 The track is based upon a melody composed by Catriona for the infamous beach in Plockton where generations of music schoolers have spent their weekends.
This newly established trio brings three distinct musicians into a fresh collaboration. Together they craft original compositions that flow organically whilst affording the listener breathing space.
Individually, the group come from Scottish traditional music backgrounds, but here are influenced by more contemporary harmony and structure. The music is characterised throughout by a minimalist compositional style that utilises motifs, riffs and thematic development.
All three members of the group are from the Central Belt of Scotland.
Their first EP 'Confluence', was recorded at Gran's House Studios by Angus Lyon, is now available to buy from Bandcamp, iTunes and Spotify.
Artwork: www.elspethchapman.com
Website: www.amerhawksworthmunro.com
Facebook: https://www.facebook.com/AmerHawksworthMunro
Bandcamp: https://amerhawksworthmunro.bandcamp.com
Artist website: http://www.amerhawksworthmunro.com
Single title: Coral Beach
Album title: Confluence
Release Date: 22/12/2016
Single artist: Amer//Hawksworth//Munro
Single duration: 4.09
Record Label: Amer//Hawksworth//Munro
Catalogue No: AHM7001CD
Writers: Chris Amer, Catriona Hawksworth, Rosie Munro
Publishers: Amer//Hawksworth//Munro
Explicit?: No
Search Terms:
Follow these topics: contemporary, Featured release, fiddle, Guitar, banjo etc, miscellaneous, piano, Releases, Scottish Traditions and Culture