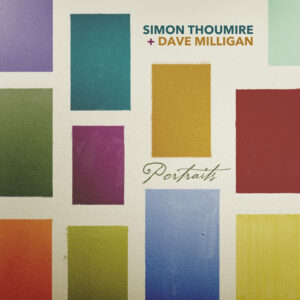 "Come on, let us sway together" is a tune composed by Simon. It was written as a Valentine's Day gift for his wife Clare and was the inspiration for this Portraits project. The title is taken from a line in an Edwin Morgan poem called "Kiss Me".
"Portraits" is an album born during lockdown, capturing the essence of special people through original music. It started with Simon's composition "Come on, let us sway together" as a Valentine's gift for his wife Clare. With Dave's piano talents added in February 2020, their collaboration evolved dynamically. Simon's concertina and Dave's reimagining of the music brought a beautiful fusion to the project. Spanning from February 2020 to March 2023, "Portraits" reflects deep connections and meaningful relationships, bringing joy to Simon and Dave throughout the journey.
Virtuoso musicians Simon Thoumire (concertina) and Dave Milligan (piano) made their first album – The Big Day In – in 2001 when they got the opportunity of a spare day in a studio with a piano – hence the title. Since then they have performed throughout the world, made three albums – the aforementioned The Big Day In, Third Flight Home and their latest album – Portraits. We play a mixture of reels, jigs, strathspeys and airs mainly from the Scottish tradition but some different tunes too.
Artist website: https://simonthoumire.ffm.to/portraits
Single title: Come On, Let Us Sway Together
Album title: Portraits
Release Date: 12/06/2023
Single artist: Simon Thoumire and Dave Milligan
Single duration: 3:37
Record Label: Big Bash Records
Writers: Simon Thoumire
Publishers: PRS
Explicit?: No
Search Terms: {Search terms:18}
Follow these topics: concertina, Featured release, Newsletter, piano, Releases