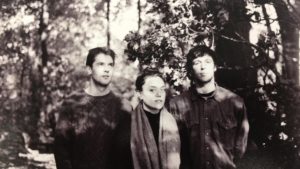 We proudly bring to your ears the ethereal track 'Causeway' by Scotland-based trio Avocet. The single was recorded at the Abbey Road Institute Amsterdam by Michiel Mutsaerts & Dieter Boels, released through Mink Records.
Available on all major streaming platforms.
Written by Sam Grassie & Iona Zajac. Arranged by Avocet
Avocet is a Glasgow based trio comprising of Sam Grassie (Guitar, Violin), Iona Zajac (Vocals, Clarsach) and Herbie Loening (Double Bass, Guitar). Taking their name from Bert's eponymous 1979 album, their music explores the boundaries between trad folk and world blues. Following their win at the DK Celtic Connections Festival they signed to Mink Records in 2017, travelling to the Abbey Road Institute Amsterdam to record their critically acclaimed debut EP "Borrowed Seed". They have been busy since, with festival performances and gigs across the country including support for Ralph McTell. With backing from the Bert Jansch Foundation they have released a further single, Cheating Monday, from their forthcoming Album. The band will tour the UK in April 2019.
Artist website: http://https://www.facebook.com/Avocetunes/?eid=ARDQaFTm5fXTVicwOewyNymKZyhtqqVBLIA_MEYHEZCcPHkNAbx5AFu6U2ZkffkrVEXdfPhxgbSD_DUb
Single title: Causeway
Album title: Borrowed Seed
Release Date: 20/01/2019
Single artist: Avocet
Single duration: 5:45
Record Label: Mink Records
Catalogue No: MINK0026.
Writers: Sam Grassie , Iona Zajac
Publishers: Mink
Explicit?: No
Search Terms: {Search terms:18}
Follow these topics: Featured release, Releases, songwriter