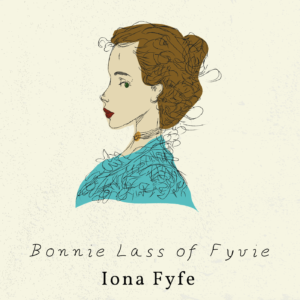 A new single from Scots Singer, Iona Fyfe.
One of the most well-known of Aberdeenshire songs, I got this from the singing of Sam Kelly, who recorded 'The Bonnie Lass of Fyvie' on his album titled "Pretty Peggy". Bob Dylan recorded "Pretty Peggy-O" on his 1962 debut album and performed the song with a more traditional melody on 18th April 1997 in State University of New York, Albany. 'Pretty Peggy O' was collected by Cecil Sharp from Mrs Combs, Knott County Kentucky in 1908.
The 'Bonnie Lass of Fyvie' details the failed romance between a soldier and 'Peggy'. Versions can be found in the form of 'Pretty Peggy' or 'Fennario' in the Appalachians, 'The Maid of Fife' in Fife, and the localised 'Pretty Peggy o Derby' in England. Variants are set within the time period of American Civil War in 1812, but in the North East, the song dates back to 1644, when the Marquess of Montrose's Royalist Army invaded Fyvie Castle.
There are over twenty versions of the song in Volume 1 of the Greig-Duncan Folk Song Collection. The earliest manuscript is a Bodleian Broadside from before 1839. The earliest recorded North East version of the song comes from Fyvie-man John Strachan who sung it to Hamish Henderson in 1952, the next being from John MacDonald, the famous Morayshire melodeon-playing mole-catcher who sung it to Hamish Henderson in 1954.
Aberdeenshire folksinger, Iona Fyfe, has become one of Scotland's finest young folk singers, rooted deeply in the singing traditions of the North East of Scotland.The youngest ever winner of Scots Singer of the Year at the MG ALBA Scots Trad Music Awards 2018, Iona has been described as "one of the best Scotland has to offer." (Global-Music.de) With a number of high profile appearances under her belt, Iona, a mere 22 years of age, has toured throughout the UK, Poland, France, Germany, Austria, Italy, Switzerland, Czech Republic, Canada and Australia. A nominee for Folk Band of the Year at the MG ALBA Scots Trad Music Awards, Iona has performed with the BBC Scottish Symphony Orchestra as part of the World Premiere of Disney Pixar's Brave in Concert at Glasgow Royal Concert Hall.
Artist website: http://www.ionafyfe.com
Single title: Bonnie Lass of Fyvie
Album title:
Release Date: 29/01/2020
Single artist: Iona Fyfe
Single duration: 5:31
Record Label: Iona Fyfe
Catalogue No: IF20FYVIE
Writers: Trad. arr
Publishers: n/a
Explicit?: No
Search Terms: {Search terms:18}
Follow these topics: Featured release, folk band, Guitar, banjo etc, Releases, Scots language song, Scottish songs, Scottish Traditions and Culture