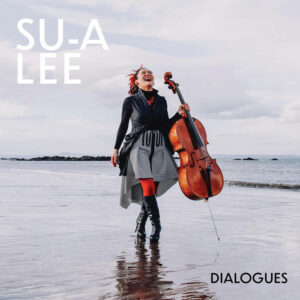 Celebrated South Korea-born cellist Su-a Lee draws on her 30 years of musical experience in her stunning debut solo album Dialogues.
Set for physical release on Friday 2nd December 2022, the album will then be available to download and stream on major digital platforms from Friday 20th January 2023.
Continually reaching beyond the classical genre, the top-class chamber musician has worked with exceptional World music artists throughout her career. She is highly sought after for her distinctive sound, expression and willingness to explore. In Dialogues, Su-a showcases the highlights and inspirations of her non-classical career, and brings her own unique voice to the fore.
Dialogues is a series of musical conversations with 15 of her all-time favourite folk musicians from home and abroad. Each piece is an intimate duet that takes their musical relationship to the next level. Each collaborator has carefully chosen a tune or song that is close to home and heart, and one that also celebrates their strong connection with Su-a over the years. Many are original compositions, written especially for the album and dedicated to her, while others are fresh arrangements of traditional tunes.
Su-a Lee said: "Playing solo is not really my thing. I am energised by working with other people, especially these people. I didn't want my debut solo album to be just about me taking the limelight. This album celebrates the musician featured on each track. Each piece reveals something of their roots, identity and inspirations, while also striking a chord with me. As much as this album is about finding my own voice, it is also about the interaction and development of two voices. Welcome to our dialogue."
The album also explores the role of the cello in folk music. In fact, the cello is the original Scottish folk rhythm section instrument – famous Scots fiddlers of the 18th century, like Neil Gow, Peter Milne and James Scott Skinner were regularly accompanied by a cellist. However, the cello went out of fashion for a century or so, in favour of guitar, piano and other instruments.
Su-a continued: "I was keen to build on the use of more cello in trad music. I hope this album will be the first step in creating a resource of repertoire to inspire other cellists."
The cello is currently undergoing a revival in the folk world, particularly through influential mavericks such as Natalie Haas, who is featured on track three of the album in an original composition dedicated to her fellow cello pioneer, Waltzska for Su-a.
Among those also featured on the captivating album are Pekka Kuusisto, the Finnish violin soloist, chamber musician and conductor; Donald Shaw of Capercaillie and Celtic Connections fame on piano and harmonium; Gaelic vocal star Julie Fowlis; and ace US-based Scottish harpist Maeve Gilchrist.
Dialogues contains a diverse range of tunes and songs. International virtuosic tango star Carel Kraayenhof, a Bandoneón player from the Netherlands, performs his own special arrangement of a Piazzolla milonga, a precursor to Tango music, on Oblivion.
Mill O' Tifty's Annie is an old Scots ballad about a real-life tragedy from the 1670s, which has a personal connection to Su-a's extended family. Su-a and esteemed singer-songwriter Karine Polwart give the song a new arrangement, with Karine's captivating vocals and soft guitar complementing the cello beautifully, to create a poignant piece of work.
The Wedding, which features celebrated accordionist Phil Cunningham, is a slow air of Phil's composing, from his 1987 album The Palomino Waltz. The tune has been given a new lease of life to showcase Su-a's cello alongside Phil's accordion, and has personal significance to Su-a, who proposed to her now husband in 2020.
The album concludes with a solo track by Su-a, a recording of Ae Fond Kiss arranged by her late friend and colleague in the Scottish Chamber Orchestra cello section, talented musician, composer and arranger Kevin McCrae.
Su-a explained: "Although the final track is not strictly a duo collaboration like all the other tracks, it is a meaningful nod to a dear friend and a thank you for giving me a lifelong appreciation of Scottish folk music."
Born in Seoul, South Korea, Su-a Lee is one of Scotland's most versatile, adventurous and charismatic cellists, having collaborated with rock icons Eric Clapton and Jack Bruce (Cream), jazz musicians Peter Erskine (Weather Report) and Thomas Strønen, Indian sarod maestro Ustad Amjad Ali Khan and Scottish folk-electronica pioneer Martyn Bennett. She works extensively within the UK classical and folk music scenes having played with the Scottish Chamber Orchestra for nearly 30 years, and is a founding member of the highly innovative Mr. McFall's Chamber, which formed 26 years ago and has collaborated with artists of all genres and mediums.
Dialogues was produced by Su-a Lee and Andrea Gobbi, and was recorded and mixed by Andrea Gobbi at GloWorm Recording.
Dialogues will be available to buy on CD, download and stream from Bandcamp on Monday 2nd December 2022 and can be pre-ordered from there now. It will be available to stream and download from all other streaming platforms from Friday 20th January 2023.
Artist website: https://www.sualee.com
Single title: Baroque Suite feat Donald Shaw
Album title: Dialogues
Release Date: 02/12/2022
Single artist: Su-a Lee
Single duration: 8:00
Record Label:
Catalogue No:
Writers: Donald Shaw
Publishers: MCPS
Explicit?: No
Search Terms: {Search terms:18}
Follow these topics: contemporary, Featured release, Newsletter, Releases