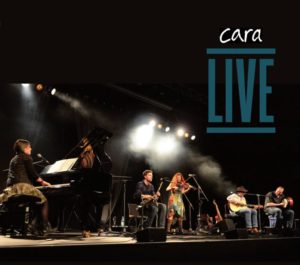 CARA are delighted to announce their second Scottish tour in September 2018, celebrating their 15th anniversary on the international folk scene and their seventh release: a new live album.
"Strong on emotion, story and poetry… impressive, dramatic and accomplished" FolkRadio.UK
Audiences can expect innovative arrangements of material firmly rooted in the Irish and Scottish traditions, critically acclaimed original songs and tunes, and several brand new pieces. Uplifting, energising and expressive, with lead vocalists Gudrun Walther (Germany) and Kim Edgar (Scotland) alongside piano, fiddle, flute, whistles, guitar, uilleann pipes and accordion, CARA have been described as "a whole festival wrapped up in one band" (Bruce MacGregor, BBC Radio Scotland).
The band are delighted to tour Scotland for the second time, after launching their latest studio album, "Yet We Sing" at Celtic Connections 2016. CARA also enjoyed a recent performance at the 30th Cork Folk Festival, and last year they headlined Main Stage 2 at Shrewsbury Folk Festival and completed their first English tour.
"Great musicianship […] total respect for the material. Wonderful." Mike Harding
CARA SCOTTISH TOUR DATES, SEPTEMBER 2018
Thursday 13th: Plockton
Saturday 15th & Sunday 16th: Ceòl Cholasa
Tuesday 18th: Falkirk, The Faw Kirk (with Freedom Of Mind Choir)
Wednesday 19th: Glasgow WEST
Thursday 20th: Kinross
Friday 21st: Edinburgh Queens Hall
Saturday 22nd: Letham, Cupar
full details: www.cara-music.com
words: trad / P. Clark
music: P. Clark, arr. J. Treyz
Recorded live on tour in Germany in 2017
Artist website: http://www.cara-music.com
Single title: Ardkeen Boat Song
Album title: CARA: Live
Release Date: 01/02/2018
Single artist: CARA
Single duration: 5:07
Record Label: artes records
Catalogue No: ARCD5010
Writers: words: trad/Patricia Clark, music: Patricia Clark arr. J. Treyz
Publishers: GEMA / PRS
Explicit?: No
Search Terms:
Follow these topics: Featured release, folk band, Releases