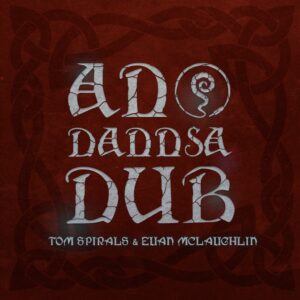 Future dub from ancient Scotland. This is the musical message set to be spread by new trad-dub collective, An Dannsa Dub, on the release of their debut, self-titled single. An Dannsa Dub (The Dub Dance in Scots Gaelic) fuses the mystic sounds and instruments of traditional Gaelic songs with the heavy, driving basslines of dub music.
Headed by dub producer, MC & Scottish Alternative Music Award 'Best Live Act' 2021 nominee Tom Spirals; and trad multi-instrumentalist Euan McLaughlin from 2021 Scots Trad Music Awards nominees Lapwyng, An Dannsa Dub proves trad and dub can blend with ease: after all, both genres lead you to consider the spiritual, the magical, and the unexpected.
Stunning Scottish locations, from Crawick Multiverse (sister to Jupiter Artland and The Garden of Cosmic Speculation) to a remote bothy on the Southern Upland Way hiking trail, set the scene for the single's accompanying music video; providing the eerie tale of how the An Dannsa Dub musicians came to acquire these futuristic songs.
Starring Creative Scotland-funded professional dance company Sanchez & Rigg and extremely intricate, hand-stitched costumes by acclaimed theatre & performance collective Oceanallover, both the single and video are wrapped in intrigue and mystery – mapping the road for the forthcoming release of An Dannsa Dub's five track self-titled vinyl LP in December.
An Dannsa Dub was created with the support of Help Musician's Do It Differently Fund, one of only a few projects to receive support out of
thousands of applications across the UK.
"Sounds like the best ceilidh you'll ever go to in your life, but on steroids" –
Phoebe Inglis-Holmes, BBC Music Introducing
An Dannsa Dub is the brand new collaboration between Dub MC/Producer Tom Spirals and Traditional Musician/Producer Euan McLaughlin. Tom regularly tours internationally with an array of acts including Glasgow Sound System Collective, Mungo's HiFi while Euan performs internationally with a range of artists including award winning Nu-Folk trio, Lapwyng.
An Dannsa Dub, the lead single and title track from the upcoming record releasing on November 5th. The record was self recorded from their respective homes and features vocals from acclaimed Gaelic Singer Ellen MacDonald, Bodhran from Callum Convoy and a spoken story, narrated by Gillian MacDonald as well as Spirals and McLaughlin's talents on Flute, Fiddle, Guitars, Bouzouki, Synths, Keys and more. The record will be available digitally and on 12″ and was mastered my Francesco Paone (Tiberias Towa).
An Dannsa Dub are availabe to perform as both a full live band featuring Nicky Kirk (Eabhal), Ben Parkinson (North Fire Sound), Maxi Roots and Dan Brown, and as a DJ set along with live Fiddle and Flute.
Artist website: http://euanmclaughlin.com
Single title: An Dannsa Dub
Album title:
Release Date: 05/11/2021
Single artist: Tom Spirals & Euan McLaughlin
Single duration: 03.45
Record Label: Tom Spirals Records
Catalogue No: TSR005
Writers: Booth/McLaughlin/ Trad
Publishers: Tom Spirals & Euan McLaughlin
Explicit?: No
Search Terms: {Search terms:18}
Follow these topics: electronic, Featured release, fiddle, Gaelic language songs, Newsletter, Releases