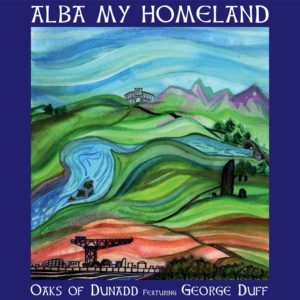 Poet William J. Swain-Nisbet began composing this song whilst passing Loch Lomond in 1981 when he and his wife left Glasgow for Oban. Frustrated by what he felt were backward looking themes in some of the popular folk songs of this time, William was inspired by the idea of songs like Matt McGinn's The Rolling Hills O' The Borders and Song of The Clyde by R.Y.Bell and Ian Gourly which itself is a love song to the River Clyde which William grew up beside. This inspired his thinking to write a love song for Scotland, celebrating the land and the people. As William and his wife journeyed from Glasgow to their new home in Argyll, the words came to him, as he relates; "It started pouring out my brain, coming in torrents. The chorus came first, Alba, it was always Alba, not Scotland, I was singing of the land I knew, It was a song right from the first words; Alba my homeland I cherish your all. I thought, I do cherish your all"
In 2018 William brought the song to have it arranged and recorded to his friend producer and songwriter Kieran C Murray, whom he had first met on the Isle of Ulva in the 1970s. Once they had perfected the lyrics, Kieran went into the studio with some of Scotland's finest musicians, finished the arrangement and recorded it in Edinburgh as the Oaks of Dunadd. The song took on a new life when nominee for Scots singer of the year George Duff agreed to sing it.
The track was produced by Kieran C Murray and features some top-ranking Scottish musicians: The fantastic Scots singer George Duff on lead vocals, founding member of Capercailie Marc Duff on bazouki, whistles & bodhrán, Marty Hailey on guitars, mandolin & backing vocals, Kieran C Murray on bass guitar & backing vocals and Salsa Celtica's Toby Shippey on drums.
Having been there at the birth of the song by Loch Lomond side, artist Sarah Swain-Nisbet, William's wife, felt compelled to paint the original artwork for this song, drawing her inspiration from its words.
It is hoped that a Gaelic version of this song will soon be recorded once the right singer is found, followed by a music video. Profits from the sale of this song will go towards the Rockfield Community Centre in Oban, in Argyll, Scotland. The connection with Oban is strong, as well as William J. Swain-Nisbet hailing from Oban, Kieran C Murray and Marc Duff are both former pupils of Oban high School. The track received its world premiere on Oban FM radio station.
We hope you enjoy listening to and sharing this catchy love song for Scotland!
Oaks Of Dunadd is a group of top ranking Scottish musicians musicians assembled to record this song, and includes; founding member of Capercailie Marc Duff on bazouki, whistles & bodhrán, Marty Hailey on guitars, mandolin & backing vocals, Producer Kieran C Murray on bass guitar and Salsa Celtica's Toby Shippey on drums. The guest singer George Duff is a well-known and respected Scottish folk singer who was nominated last year for Scots singer of The Year.
Perhaps this group may re-emerge some day from the Dál Riata to record again…
Artist website: http://tribalglobal.com
Single title: Alba My Homeland feat. George Duff
Album title:
Release Date: 21/03/2019
Single artist: Oaks of Dunadd
Single duration: 3:25
Record Label: Tribal global Records
Catalogue No: GBU6E1100032
Writers: William J. Swain-Nisbet, Kieran C Murray, Marty Hailey, Toby Shippey
Publishers: Tribal Global Publishing
Explicit?: No
Search Terms: {Search terms:18}
Follow these topics: Featured release, folk rock, Releases