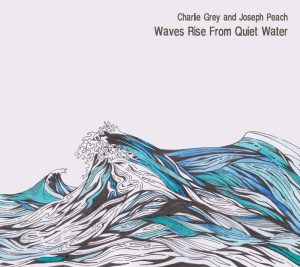 Title track from Charlie Grey and Joseph Peach's debut album: 'Waves Rise From Quiet Water".
"A 'Thank You' Won't Pay The Fiddler"- written by Charlie Grey and Joseph Peach
The album was recorded in May 2016, Capturing their essential fiddle/piano combination, with a number of additions: Tenor guitar, accordion, fender rhodes and vocals. Making full use of the range of instruments at their disposal, they built upon this intrinsic fiddle/piano combination, enhancing it whilst not obscuring the fact of it's place at the core of what they do.
Album Credit:
Recorded by Joseph Peach at 18 Clifford Street
Mixed and Mastered by Mattie Foulds at Caribou Recording
Charlie Grey: Fiddle, Tenor Guitar, Vocals
Joseph Peach: Piano, Fender Rhodes, Accordion
Kim Carnie: Additional vocals
They have a background at the heart of some of Scotland's native musical traditions, but Charlie Grey and Joseph Peach's music is as much based on self-penned material as it is informed by this upbringing.
A captivating fiddle style supported by sensitive pianism isn't big, loud, in-your-face music, but something to be relaxed in to. It's a journey, rising and falling with total spontaneity.
They play with a collective voice, the product of hundreds of gigs, thousands of miles travelled and innumerable hours of music played together. From a largely mellow base, the music rises and falls, slowly building to moments of intensity, breaking away in to powerful improvisation.
Artist website: http://www.cgjpmusic.com
Single title: A 'Thank You' Won't Pay The Fiddler
Album title: Waves Rise From Quiet Water
Release Date: 15/09/2016
Single artist: Charlie Grey and Joseph Peach
Single duration: 3:55
Record Label: Braw Sailin' Records
Catalogue No: CD002BSR
Writers: Charlie Grey and Joseph Peach
Publishers: Self-Published
Explicit?: No
Search Terms:
Follow these topics: Featured release, fiddle, piano, Releases