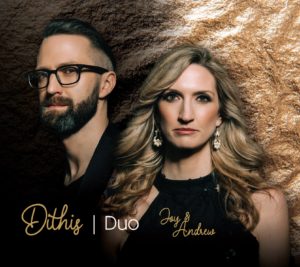 A Mhairead Òg (Young Margaret) is the first single from sibling duo Joy&Andrew's new album, Dithis, released March 2020.
There are several variations of this traditional song, in which we find a young man living in his widowed mother's household. He is not yet of age to inherit the leabaidh àrd, a metaphor for his father's estate. The man has fallen in love with young Margaret, a servant girl. However, this is not to the liking of his mother, who hatches a plan to fix this undesirable situation.
When Margaret goes to pool to bathe, the mother sends her son out to hunt for duck. As he passes the pool, he sees a flash of white and fires – to his horror, he discovers that he has in fact, killed his beloved Margaret.
Sibling duo Joy&Andrew Dunlop hail from the village of Connel, in the West Highlands of Scotland, and have been making music together since childhood. Inspired by her love and curiosity for Gaelic song and culture, Mòd Gold Medalist and Inter-Celtic Dance Champion Joy continued her education at Sabhal Mòr Ostaig on the Isle of Skye, while Andrew pursued classical conservatoire training in Manchester and New York. However, after a decade of performing across the UK and further afield as part of various bands and groups, Joy&Andrew have reunited to create their first duo album together Dithis, described as 'a fusion of musical unity and understanding that pushes traditional musical boundaries, whilst maintaining a distinctive air of authenticity throughout'.
Artist website: http://joyandandrew.co.uk
Single title: A Mhairead Òg / Young Margaret
Album title: Dithis | Duo
Release Date: 27/03/2020
Single artist: Joy&Andrew
Single duration: 4:52
Record Label: Sradag Music
Catalogue No: SRM007
Writers: Trad
Publishers: n/a
Explicit?: No
Search Terms: {Search terms:18}
Follow these topics: contemporary, Featured release, Gaelic language songs, piano, Releases, Scottish songs, Scottish Traditions and Culture